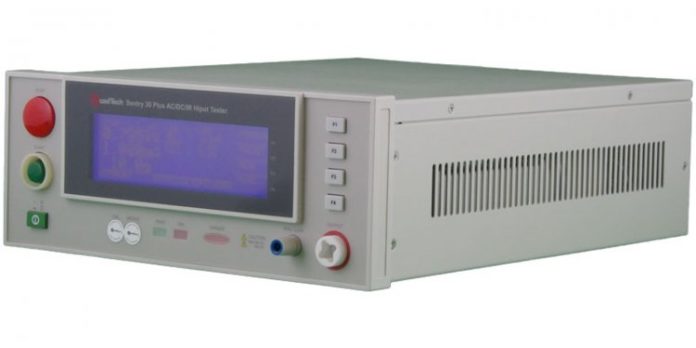 Lưu ý: Tham khảo ý kiến của nhân viên INO sẽ giúp bạn tiết kiệm được thời gian và chi phí khi cần mua sắm. ​​Với sự tư vấn của chúng tôi, bạn sẽ không gặp khó khăn khi tìm hiểu về đặc tính của sản phẩm cần mua.
The Sentry 10 Plus AC Hipot Tester (CE Mark) performs AC dielectric withstand (hipot) tests. The test voltage is programmable from 50V to 5kV AC with a resolution of 1V. The current range is 1µA to 20mA.
Program & Display Ground Continuity: The Sentry Plus Series can measure and display the resistance between the ground blade of the power cord and any exposed metal on the product.
Upgradeable: With the Sentry Plus Series, it is possible to add DC and/or IR test capability without purchasing a new instrument. The Sentry 10 Plus can be upgraded to a Sentry 20 or 30 Plus and the Sentry 20 Plus can be upgraded to a Sentry 30 Plus.
Meets UL Hipot Tester Requirements: The Sentry Plus instruments measure & display the output voltage directly at the output terminals. The instruments have both visual and audible failure indications, and after a failure the STOP switch must be pressed prior to another measurement.
Sentry 10 Plus AC Hipot Voltage 50 to 5000V, Output Current to 20mA
UL, CSA, TUV, VDE, CE

The Sentry 10 Plus can be incorporated into an automated manufacturing environment with remote start and GO/NOGO results output through the rear panel PLC interface.
Key Features
AC Hipot Voltage 50 to 5000V, Output Current to 20mA
Programmable Ground Continuity Check, 0.1 to 5ohms
Programmable Ramp, Test, and Fall Times
Fast Cutoff and Discharge of Device Under Test
Programmable Hi/Lo Limits for Pass/Fail Testing
Large LCD Display for Menu Programming and Test Results
Internal Storage and Recall of 80 Test Setups
Ground Fault Interrupt Shutdown for Operator Safety
Front and Rear Panel Output Connections
Front Panel Lockout Prevents Changes to the Test Setup
Automatic Offset to Zero Out Stray Leakage Current
Instruments Upgradeable, Sentry 10 to 20 to 30
3mA Current Limit per EN50191
UL Listed and CE Marked
AC Hipot Applications
Production Testing of Appliances, Instruments and Information Technology Equipment in accordance with UL, IEC, TÜV and Other Standards such as EN60335, EN60950, EN61010, CSA C22.2 No. 1010.1, UL3111 and UL1950
Electric Motor Safety Testing
Lighting Fixtures Safety Testing
Ordering information
Sentry 10 Plus: AC Hipot Tester

A190701: Remote control box
A195720: GPIB interface
A190510: Printer interface
Resource & Download
Lưu ý: Nếu một thiết bị nào đó không được liệt kê ở đây, điều đó không có nghĩa rằng chúng tôi không hỗ trợ được bạn về thiết bị đó.
Hãy liên hệ với chúng tôi
 để biết danh sách đầy đủ về thiết bị mà chúng tôi có thể hỗ trợ và cung cấp.
INO: Bán, Báo giá, tư vấn mua sắm và cung cấp, tư vấn sản phẩm thay thế; tương đương, hướng dẫn sử dụng, giá…VNĐ, …USD info@ino.com.vn | INO Sales: 028 73000184 | QuadTech Inc-AC Hipot Tester (Model: Sentry 10 Plus).