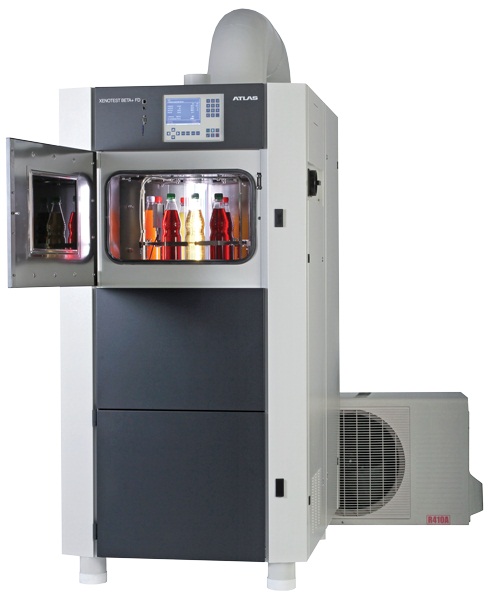 Lưu ý: Tham khảo ý kiến của nhân viên INO sẽ giúp bạn tiết kiệm được thời gian và chi phí khi cần mua sắm. ​​Với sự tư vấn của chúng tôi, bạn sẽ không gặp khó khăn khi tìm hiểu về đặc tính của sản phẩm cần mua.
The Xenotest Beta+ FD is a premium stand-alone rotating rack xenon instrument with 4000cm2 exposure area. It's completely target designed to meet the testing needs of the FMCG industry, such as drinks, foodstuffs, personal care or household products. Beta+ FD enables consumer goods manufacturers to test their products realistically within very short test times, typically with acceleration factors between 10-50 versus real time. It's for reliable qualification of stable product formulations, determination of appropriate packaging materials, and supporting product shelflife claims.
Beta+ FD offers two custom racks – a bottle rack and a packagings rack. Both carry loads up to 20 kg and fit various packaging shapes and sizes. Economic non-aging filters guarantee realistic simulation of all three common light conditions – outdoor Daylight / indoor Daylight / Supermarket light, while a chiller keeps test temperatures on realistic levels even at high irradiance. Programming and monitoring can be done online.
Features
3x 2200 W air-cooled Xenon Lamps
4000 cm2 exposure area
Touch screen with colour display to monitor and display test parameters
Direct setting and control of Irradiance (300-400 nm) or (300-800 nm)
Direct Setting and Control of Black Standard Temperature (BST)
Direct Setting and Control of Chamber Temperature (CHT)
Display of Diagnostic Messages
Storage for 10 user-defined test methods
Multilingual User Interface
Test chamber with rotating rack technology; for application-specific specimen racks
Thermal insulation of test chamber and periphery preventing water condensation
Non-aging XENOCHROME filters to simulate outdoor daylight, daylight behind window
Optional StoreLight filter to simulate supermarket light conditions
On-rack XENOSENSIV 300-400 nm or 300-800 nm sensor for measuring and controlling irradiance (in W/m²) and BST (C°) on sample level
Selectable Temperature control either by CHT (10° *- 70°C; *with chiller) or by CHT and BST (25° * – 120°C) simultaneously (dual control)
Fan-controlled temperature difference between Chamber and Black Standard Temperature
Chiller SunCool Beta+ for extended CHT- and BST-ranges towards lower temperatures
UV-protected test chamber window
Switch-off by radiant exposure, light exposure time or total operating time
Advanced Auto Start functions
Internal memory chip for storing instrument data
Data output via memory card or RS 232 interface
Ethernet interface for connection to internal computer network and use of XenoTouch Add-ons 1, 2, and 3
Lưu ý: Nếu một thiết bị nào đó không được liệt kê ở đây, điều đó không có nghĩa rằng chúng tôi không hỗ trợ được bạn về thiết bị đó.
Hãy liên hệ với chúng tôi
 để biết danh sách đầy đủ về thiết bị mà chúng tôi có thể hỗ trợ và cung cấp.
INO: Bán, Báo giá, tư vấn mua sắm và cung cấp, tư vấn sản phẩm thay thế; tương đương, hướng dẫn sử dụng, giá…VNĐ, …USD info@ino.com.vn | INO Sales: 028 73000184 | Atlas Material Testing Technology LLC-Xenotest ( Model:Beta+ FD).