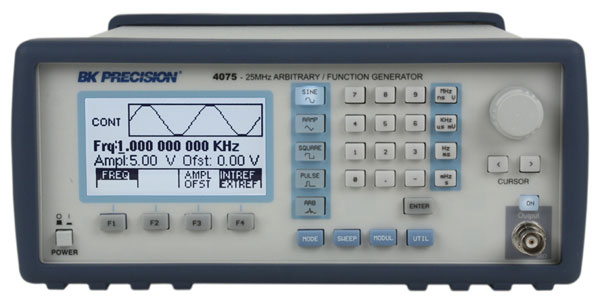 Lưu ý: Tham khảo ý kiến của nhân viên INO sẽ giúp bạn tiết kiệm được thời gian và chi phí khi cần mua sắm. ​​Với sự tư vấn của chúng tôi, bạn sẽ không gặp khó khăn khi tìm hiểu về đặc tính của sản phẩm cần mua.
The 4075 is a versatile high performance function / arbitrary waveform generator with the largest arbitrary memory depth in its class. The generator combines the ability to produce nearly any conceivable arbitrary waveform with accuracy and precision and a DDS architecture offering easy to use conventional function generator capabilities. Arbitrary waveforms have 14 bit amplitude resolution, 100 MSa/s sample rate and up to 400,000 points length. Waveforms can be output in continuous, triggered, gated or burst modes. The instrument can be remotely controlled using SCPI-compliant commands via RS232. Extensive features such as internal or external AM, FM and FSK modulation along with versatile sweep capabilities and variable edge pulse generation make this generator suitable for a wide range of applications including electronic design, sensor simulation and functional test.
Features & Benefits:
14-bit, 100 MSa/s, 400 k point Arbitrary Waveform Generator
25 MHz Sine / 25 MHz Square waveforms
Predefined Pulse, Ramp, Triangle, Noise, Sin (X)/X, Exponential and Gaussian waveforms
AM, FM and FSK modulation
10 mVpp to 10 Vpp into 50 ohms
Large graphical LCD shows a detailed output waveform representation
Fully programmable markers
Fully protected output
Closed case calibration
SCPI compliant command set
Simple integration with WaveXpress waveform editing software to send your waveform creations to the arbitrary waveform generator
Lưu ý: Nếu một thiết bị nào đó không được liệt kê ở đây, điều đó không có nghĩa rằng chúng tôi không hỗ trợ được bạn về thiết bị đó.
Hãy liên hệ với chúng tôi
 để biết danh sách đầy đủ về thiết bị mà chúng tôi có thể hỗ trợ và cung cấp.
INO: Bán, Báo giá, tư vấn mua sắm và cung cấp, tư vấn sản phẩm thay thế; tương đương, hướng dẫn sử dụng, giá…VNĐ, …USD info@ino.com.vn | INO Sales: 028 73000184 | Metrix Electronics- 25 MHz Arbitrary Waveform / Function Generator (Model: BK4075).