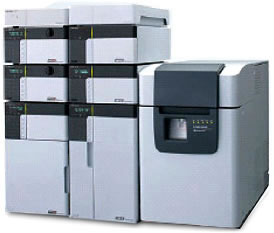 Lưu ý: Tham khảo ý kiến của nhân viên INO sẽ giúp bạn tiết kiệm được thời gian và chi phí khi cần mua sắm. ​​Với sự tư vấn của chúng tôi, bạn sẽ không gặp khó khăn khi tìm hiểu về đặc tính của sản phẩm cần mua.
UFLC Quality – Speed is Power.
High-speed HPLC analysis to improve lab analysis productivity began in 1982 with the Shimadzu LC-5A/FLC column. In 2006, the Prominence UFLC/XR column system achieved ultra high-speeds while ensuring repeatability during continuous multi-sample analysis, in addition to maintaining durability and other forms of data stability. Since general HPLC analysis is insufficient with respect to qualitative capabilities, risks related to overlooking impurities that can obscure peaks remain. Mass spectrometers are effective at minimizing these risks. To date, however, a commercial MS capable of reliably providing the kind of sharp peaks obtained with ultra high-speed LC has not been available.
Now, an ultra high-speed MS, compatible for the first time with ultra high-speed LC, has been released
The ultra high-speed LC/MS Prominence UFLC+LCMS-2020 improves the speed and reliability of HPLC analysis, offering dramatic improvements in lab productivity.
3 points yielding ultra high-speed, ultra high-sensitivity MS measurements
By incorporating the following innovative features into the LCMS-2020, the sharp peaks of ultra high-speed LC won't be missed:
UFswitching (high-speed positive/negative ionization mode switching)
UFscanning (high-speed scan measurements)
UFsensitivity (superior sensitivity and repeatability thanks to newly developed ion optics)
The UFLC/MS, which continues the tradition of high-level data reliability from the well-received ultra high-speed LC Prominence UFLC, has now been released.
Lưu ý: Nếu một thiết bị nào đó không được liệt kê ở đây, điều đó không có nghĩa rằng chúng tôi không hỗ trợ được bạn về thiết bị đó.
Hãy liên hệ với chúng tôi
 để biết danh sách đầy đủ về thiết bị mà chúng tôi có thể hỗ trợ và cung cấp.
INO: Bán, Báo giá, tư vấn mua sắm và cung cấp, tư vấn sản phẩm thay thế; tương đương, hướng dẫn sử dụng, giá…VNĐ, …USD info@ino.com.vn | INO Sales: 028 73000184 | Shimadzu-Liquid Chromatograph Mass Spectrometer(Model:LCMS-2020 ).