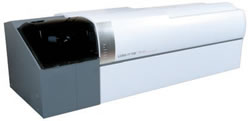 Lưu ý: Tham khảo ý kiến của nhân viên INO sẽ giúp bạn tiết kiệm được thời gian và chi phí khi cần mua sắm. ​​Với sự tư vấn của chúng tôi, bạn sẽ không gặp khó khăn khi tìm hiểu về đặc tính của sản phẩm cần mua.
The LCMS-IT-TOF is a new type of mass spectrometer that combines QIT (ion trap) and TOF (time-of-flight) technologies. When combining QIT and TOF, the greatest technological challenges were the efficient introduction of ions into the QIT and the simultaneous ejection of trapped ions to the TOF. Here, we introduce the newly developed technologies used to solve these problems.
The source design, desolvation capillary and reduced collision ion focusing Q-Array were adapted from Shimadzu's successful single-quad HPLC mass spectrometer. The Octapole Lens can introduce eluted ions from the LC to the ion trap by CII (Compressed Ion Injection) method efficiently. The ion trap QIT gives an efficient MSn capability with our new cleaning technology. In addition, BIE (Ballistic Ion Extraction) technology, provides high resolution / accuracy for all MS, MSn… modes. The temperature control of the flight tube gives a mass stability with stabilizing the length of the ion flight and ion acceleration voltage which affects the mass stability. Dual-Stage Reflectron gives a excellent resolution with optimizing energy absorption and time convergence.
Lưu ý: Nếu một thiết bị nào đó không được liệt kê ở đây, điều đó không có nghĩa rằng chúng tôi không hỗ trợ được bạn về thiết bị đó.
Hãy liên hệ với chúng tôi
 để biết danh sách đầy đủ về thiết bị mà chúng tôi có thể hỗ trợ và cung cấp.
INO: Bán, Báo giá, tư vấn mua sắm và cung cấp, tư vấn sản phẩm thay thế; tương đương, hướng dẫn sử dụng, giá…VNĐ, …USD info@ino.com.vn | INO Sales: 028 73000184 | Shimadzu-Liquid Chromatograph Mass Spectrometer(Model:LCMS-IT-TOF ).