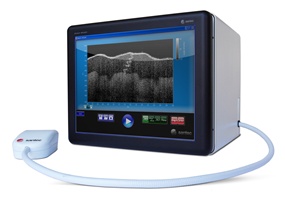 Lưu ý: Tham khảo ý kiến của nhân viên INO sẽ giúp bạn tiết kiệm được thời gian và chi phí khi cần mua sắm. ​​Với sự tư vấn của chúng tôi, bạn sẽ không gặp khó khăn khi tìm hiểu về đặc tính của sản phẩm cần mua.
Compact OCT (Optical Coherence Tomography)Systems
Santec introduces the latest generation of SS-OCT console, the IVS-300. The IVS-300 combines highly integrated all-in-one design with intuitive ease-of-use to deliver advanced imaging capabilities straight out of the box. With cutting edge features, functions and benefits the IVS-300 empowers clinicians and researchers to effectively image and measure a range of parameters with the high sensitivity associated with the swept source OCT technique.
OCT is proving itself an exceptional tool for below the surface imaging for a range of applications in medical, dental, material processing and research fields. The IVS-300 instrument combines intuitive control software with ergonomic hardware design, delivering access to this highly sophisticated imaging technique like never before.
Features
High Performance
-25fps 2D Imaging
-High resolution: 10um (typ.)
-High sensitivity: 100dB (typ.)
-High speed: 30kHz A line rate
Easy Operation
-15 inch touch panel
-Easy connection (Only supply cable)
-Quick start up
-2D & 3D image
Compact 2 axis handheld probe
-Mouse, Long Neck or Grip Configurations
High-Resolution type & Cross Polarization type available
Free 3D Viewer attached
Applications
Industrial non-invasive inspection
-Film thickness (overcoat, paint, etc.)
-Defect inspection (resin, molded plastic, etc.)
-Figuration (semiconductor, etc.)
Biology & Medical microscope
System Configuration
Probe type
Mouse type
Standard specification
30um lateral resolution
Long neck type
30um lateral resolution
Cross polarization type (Option)
Grip type
5um and 22um lateral resolution
*High resolution type is 5um
Specifications
IVS-300
Parameter
Unit
Specification
Notes
100nm type
140nm type
Scan rate
kHz
30+/-0.1
Center wavelength
nm
1310+/-30
Scan range
nm

>

100

>

150
Coherence length
mm

>

10

>

4
Axial resolution
um

<

18

<

12
In Air / FWHM
Lateral resolution
um
= Spot size
See probe specification
Axial pixel point
point

>

1000
Transverse line point
point

>

250
System Sensitivity
dB

>

90 *
* typical 100dB
Power Supply
–
AC100V-240V+/-10%,50/60Hz
Power Consumption
VA
100
Weight
kg
12
without probe
Dimensions (W)x(D)x(H)
mm
369 x 302 x 307
Probe
Configuration
Unit
Mouse type
Long neck type
Grip type
Lateral resolution
um
30
30
5
22
Lateral scan area
mm
5 x 5
5 x 5
1 x 1
4 x 4
Depth of focus
mm
3
3
0.1
1.6
Working distance
mm
2.7
1
2
10
Suitable application
–
General
Dental
Dermatology
General
Sample data
Finger
Tooth with resin
Strawberry
Resource & Download
Lưu ý: Nếu một thiết bị nào đó không được liệt kê ở đây, điều đó không có nghĩa rằng chúng tôi không hỗ trợ được bạn về thiết bị đó.
Hãy liên hệ với chúng tôi
 để biết danh sách đầy đủ về thiết bị mà chúng tôi có thể hỗ trợ và cung cấp.
INO: Bán, Báo giá, tư vấn mua sắm và cung cấp, tư vấn sản phẩm thay thế; tương đương, hướng dẫn sử dụng, giá…VNĐ, …USD info@ino.com.vn | INO Sales: 028 73000184 | SANTEC-Compact OCT Systems (Model:IVS-300).