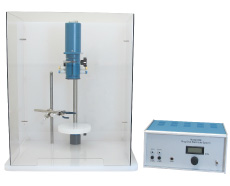 Lưu ý: Tham khảo ý kiến của nhân viên INO sẽ giúp bạn tiết kiệm được thời gian và chi phí khi cần mua sắm. ​​Với sự tư vấn của chúng tôi, bạn sẽ không gặp khó khăn khi tìm hiểu về đặc tính của sản phẩm cần mua.
Overview
The Princeton Applied Research model 636A Electrode Rotator is a high performance system giving you rapid acceleration and excellent speed control. The model 636A may be connected to any of the Princeton Applied Research electrochemical instruments. It can be used as a simple rotating disk electrode or as a rotating ring-disk electrode. The outstanding specifications of the model 636 make it the ideal choice for your laboratory.
The model 636A is suitable for use in hydrodynamically modulated systems. Its solid state controlled servosystem allows the electrode speed to follow an input signal with minimum distortion. This excellent performance is due to the use of a high speed, low inertia, permanent magnet DC motor and a high voltage, bipolar power supply. The rotational speed is adjustable to within 1% of the input setting 50 to 10,000 RPM. A voltage signal proportional to the rotational speed is available as an output.
A variety of electrodes is available for the model 636A. The user can choose from Pt, Au, and glassy carbon for disk work. For custom electrode materials, please contact the factory for availability.
While many users are interested in the behavior of a species in solution at an inert electrode, the corrosion scientist is concerned about the behavior of many different active electrodes. The needs of this group have been answered by the use of our Quick-Change electrodes assemblies. An investigator can choose a disk geometry or a cylinder geometry and have the electrode machined out of the metal of interest. The rotator is designed to accept different arbors to accommodate these two options. For corrosion studies a special disk assembly that allows the user to insert the disk of their choice is available.

Disk or Ring-Disk Configuration

Protective enclosure

Rotational Speeds to 10,000RPM

A variety of Disk and Ring-Disk Electrodes to choose from

Quick-Change Electrodes for corrosion studies

Cylindrical or Disk Electrodes for corrosion studies

On/Off and Rotational Rate Control from Princeton Applied Research Instrumentation
Specifications

Power

115V AC or 230V AC, 50/60Hz, factory connected

Weight

Body with base: 23 lbs

Control unit: 11.5lbs

Operating Temperature

10°C to 40°C

Control Unit Dimensions

11 3/8" W x 10 1/8" D x 5 ¾" H

Base Dimensions

11" W x 15" D x 3/4" H

Motor

1/50 HP permanent magnet DC

Motor Power Supply

+45V DC, -20V DC

Speed Control

Closed loop servo-system. Temperature compensated tach generator mounted on motorshaft, providing rotational speed information

Speed Range

50RPM to 10,000RPM

Precision

Better than ±1%
Options
Permanent Disk Electrodes

Model Number

(Requires Arbor)

Platinum

Gold

Glassy Carbon

RDE0027

RDE004

RDE005

RDE008

Quick Change Disk/Cylinder Electrodes

(Requires Arbor)

Disk Electrode Assembly

Disk Installation Tool

Cylinder Electrode Assembly

RDE0027

RDE0001

RDE0002

RDE0011

Ring Disk Electrodes

(Requires Arbor)

Platinum Disk – Platinum Ring

Glassy Carbon Disk – Gold Ring

Glassy Carbon Disk – Platinum Ring

RDE0070

RDE0071

RDE0072

RDE0073
Lưu ý: Nếu một thiết bị nào đó không được liệt kê ở đây, điều đó không có nghĩa rằng chúng tôi không hỗ trợ được bạn về thiết bị đó.
Hãy liên hệ với chúng tôi
 để biết danh sách đầy đủ về thiết bị mà chúng tôi có thể hỗ trợ và cung cấp.
INO: Bán, Báo giá, tư vấn mua sắm và cung cấp, tư vấn sản phẩm thay thế; tương đương, hướng dẫn sử dụng, giá…VNĐ, …USD info@ino.com.vn | INO Sales: 028 73000184 | Princeton Applied Research-Rotating Ring-Disk Electrode (Model: 636A ).