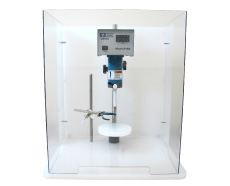 Lưu ý: Tham khảo ý kiến của nhân viên INO sẽ giúp bạn tiết kiệm được thời gian và chi phí khi cần mua sắm. ​​Với sự tư vấn của chúng tôi, bạn sẽ không gặp khó khăn khi tìm hiểu về đặc tính của sản phẩm cần mua.
Overview
The Princeton Applied Research Model 616A Electrode Rotator is a high precision, low mass rotator that performs well with virtually any potentiostat. When connected to Princeton Applied Research electrochemical instrumentation, it uses control lines to give you remote start/stop and speed control. Using the convenient control panel and input jacks you can operate the model 616 easily for either manual or automated experiments.
Standard features include:

Front panel speed controls

Protective enclosure

Remote analog speed control (input is summed with front panel settings)

Front Panel and remote (TTL) on/off switching (using Princeton Applied Research stir-control signals)

Remote analog output for speed verification

Integral ring-stand for convenient cell mounting
For versatility, a variety of electrode assemblies are available to perform a wide range of experiments, including:
High precision corrosion measurements

Ultra-trace analytical determinations

Automated Levich Plots

Hydrodynamically-modulated voltammetry

Cyclic stripping voltammetry
Specifications

Power

115V AC or 230V AC, 50-60Hz, factory connected

Weight

14lbs

Operating Temperature

10°C to 40°C

Control Unit Dimensions

11 3/8" W x 10 1/8" D x 5 ¾" H

Base Dimensions

11" W x 15" D x 3/4" H

Motor

Permanent magnet DC, ironless rotor

Motor Power Supply

+24V dc Nominal

Speed Control

Closed loop servo-system. Temperature compensated tach generator mounted on motorshaft, providing rotational speed information

Speed Range

100RPM to 8,000RPM

Precision

Better than ±1%

Accuracy

Better than ±3%

Controls

On/off switch, push button potentiometer control speed

Motor Stop

TTL level of user-selected polarity
Options
Quick Change Disk Electrodes

Model Number

Disk Electrode Assembly

Disk Installation Tool

RDE001

RDE002

Quick Change Cylinder Electrodes

Cylinder Electrode Assembly

RDE0011

Permanent Disk Electrodes

Platinum Electrode

Gold Electrode

Glassy Carbon Electrode

RDE004

RDE005

RDE008

Cell Top

For the part number K0060, k0062, and K0064

RDE0010

Polishing Kit

For polishing electrodes

K0015
Lưu ý: Nếu một thiết bị nào đó không được liệt kê ở đây, điều đó không có nghĩa rằng chúng tôi không hỗ trợ được bạn về thiết bị đó.
Hãy liên hệ với chúng tôi
 để biết danh sách đầy đủ về thiết bị mà chúng tôi có thể hỗ trợ và cung cấp.
INO: Bán, Báo giá, tư vấn mua sắm và cung cấp, tư vấn sản phẩm thay thế; tương đương, hướng dẫn sử dụng, giá…VNĐ, …USD info@ino.com.vn | INO Sales: 028 73000184 | Princeton Applied Research- Rotating Electrode System (Model:616A).