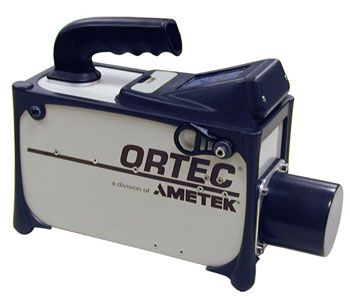 Lưu ý: Tham khảo ý kiến của nhân viên INO sẽ giúp bạn tiết kiệm được thời gian và chi phí khi cần mua sắm. ​​Với sự tư vấn của chúng tôi, bạn sẽ không gặp khó khăn khi tìm hiểu về đặc tính của sản phẩm cần mua.
The quality of a laboratory HPGe spectrometer in a convenient field-proven package.
Amazingly light 15 lb (6.8 kg).
Tough — Enclosure, Display, and all connections sealed against moisture and dust.Water spray resistant.
High Sensitivity — 50mm Ø x 30mm HPGe detector.
High Stability — Digital electronics.
Bright and Clear — VGA display with touch sensitive operator screen.
Smart — On board ROI-based Nuclide ID and activity calculation.
Well Connected — USB 2.0 and Wireless 802.11, GPS, and SD card storage of acquired spectra.
Flexible — Multiple choice of power sources: internal and external battery, automobile power, line power; all with automatic switchover.
No LN2 Required — Miniature, high-efficiency, "run for ever" Stirling-cycle cooler; detector element is sealed in a high-reliability, low-loss cryostat.
Resource & Download
Lưu ý: Nếu một thiết bị nào đó không được liệt kê ở đây, điều đó không có nghĩa rằng chúng tôi không hỗ trợ được bạn về thiết bị đó.
Hãy liên hệ với chúng tôi
 để biết danh sách đầy đủ về thiết bị mà chúng tôi có thể hỗ trợ và cung cấp.
INO: Bán, Báo giá, tư vấn mua sắm và cung cấp, tư vấn sản phẩm thay thế; tương đương, hướng dẫn sử dụng, giá…VNĐ, …USD info@ino.com.vn | INO Sales: 028 73000184 | Ortec- trans-SPEC (Model:Micro).