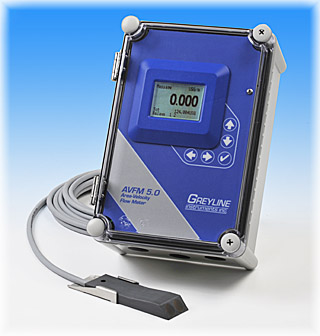 Lưu ý: Tham khảo ý kiến của nhân viên INO sẽ giúp bạn tiết kiệm được thời gian và chi phí khi cần mua sắm. ​​Với sự tư vấn của chúng tôi, bạn sẽ không gặp khó khăn khi tìm hiểu về đặc tính của sản phẩm cần mua.
For Open Channels and Pipes

No Flume or Weir Required

Ultrasonic – Measures Velocity + Level to Calculate Flow

Measures Forward and Reverse Flow

3 Isolated 4-20mA Outputs (Flow, Level and Velocity)
Totalizer and 2 Control Relays
Simple 5-key Calibration Password Protected
Optional Intrinsically Safe Sensor
Optional built-in 2-million point

Data Logger and Software

with USB output to Flash Drives
AVFM 5.0 Area-Velocity Flow Monitor
Monitor flow through open channels, partially full sewer pipes and surcharged pipeswithout a flume or weir. Ideal for stormwater, combined effluent, raw sewage, irrigation water and streams. Calibration is simple: enter the pipe diameter or channel shape and the AVFM 5.0 computes the flow volume and displays the flow rate. Measure forward and reverse flow and calibrate to channels of any shape.
The AVFM 5.0 uses a submerged ultrasonic sensor to measure both Velocity and Level in the channel. The sensor is completely sealed with no orifices or ports. It mounts inside a pipe or at the bottom of a channel.
Application Considerations
The AVFM 5.0 is recommended for pipe diameters greater than 6" (150 mm). Maximum pipe diameter or channel width should not exceed 10 ft (3 m) unless flow velocity is evenly distributed across the channel width. Avoid sensor mounting locations where sediment builds up and locations where there is an elevation drop or bend immediately upstream from the sensor. Maximum pipe or channel slope should not exceed 3%.
The AVFM 5.0 measures flow velocity from 0.1 to 20 ft/sec (0.03 to 6.2 m/sec) and reverse flow up to 5 ft/sec (1.5 m/sec)
AVFM 5.0 Installation

See the AVFM 5.0 Area-Velocity Flow Meter in action measuring water flow in a 32-inch
corrugated culvert.
Greyline Pipe Band Sensor Mounting for Area-Velocity Flowmeters

Do it the easy way – use a stainless steel pipe band for Area-Velocity Flow Meter sensor mounting. You can install the sensor and tie wrap the cable in place before you enter the manhole. Then insert the pipe band into the manhole inlet pipe and tighten the scissor-jack to expand the band for a friction fit inside the pipe.

Pipe Mounting Bands are available from Greyline in a range of sizes for common pipe diameters.
Resource & Download
Lưu ý: Nếu một thiết bị nào đó không được liệt kê ở đây, điều đó không có nghĩa rằng chúng tôi không hỗ trợ được bạn về thiết bị đó.
Hãy liên hệ với chúng tôi
 để biết danh sách đầy đủ về thiết bị mà chúng tôi có thể hỗ trợ và cung cấp.
INO: Bán, Báo giá, tư vấn mua sắm và cung cấp, tư vấn sản phẩm thay thế; tương đương, hướng dẫn sử dụng, giá…VNĐ, …USD info@ino.com.vn | INO Sales: 028 73000184 | Greyline-Area-Velocity Flow Monitor (Model:AVFM 5.0).