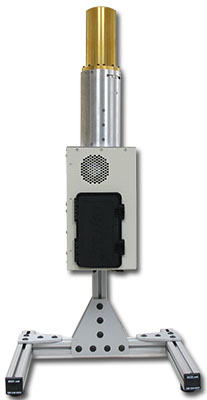 Lưu ý: Tham khảo ý kiến của nhân viên INO sẽ giúp bạn tiết kiệm được thời gian và chi phí khi cần mua sắm. ​​Với sự tư vấn của chúng tôi, bạn sẽ không gặp khó khăn khi tìm hiểu về đặc tính của sản phẩm cần mua.
For use in a variety of applications ranging from counting labs to mobile laboratories.
High-reliability Stirling cycle cooler cools rapidly to operating temperature.
Hardened cryostat designed for long operational life.
Can be temperature cycled at any time, even from partial warm up.
Highly Sensitive 65mm Ø x 50mm HPGe detector.
High performance, digitally stable signal processing.
SMART-1 diagnostics: State-of-health and instrument status available at a glance.
USB 2.0 data communications.
Low power consumption.
Low Frequency Rejector (LFR) improves spectrum resolution in noisy environments.
Lightweight design of only 7.3 kg.
Easily fits into existing standard lead shields.
Resource & Download
Lưu ý: Nếu một thiết bị nào đó không được liệt kê ở đây, điều đó không có nghĩa rằng chúng tôi không hỗ trợ được bạn về thiết bị đó.
Hãy liên hệ với chúng tôi
 để biết danh sách đầy đủ về thiết bị mà chúng tôi có thể hỗ trợ và cung cấp.
INO: Bán, Báo giá, tư vấn mua sắm và cung cấp, tư vấn sản phẩm thay thế; tương đương, hướng dẫn sử dụng, giá…VNĐ, …USD info@ino.com.vn | INO Sales: 028 73000184 | Ortec- Laboratory Detector Module (Model:LDM-1).