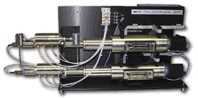 Lưu ý: Tham khảo ý kiến của nhân viên INO sẽ giúp bạn tiết kiệm được thời gian và chi phí khi cần mua sắm. ​​Với sự tư vấn của chúng tôi, bạn sẽ không gặp khó khăn khi tìm hiểu về đặc tính của sản phẩm cần mua.
Quizix PERFORMANCE
The Quizix Q5000 precision metering pump is a high pressure syringe pump that provides truly pulse-free pumping with unmatched precision and accuracy. These positive displacement metering pumps are ideal for handling aqueous solutions, brines, hydrocarbons, refined oils.

A pair of Q5000 cylinders can work together to pump continuously for any length of time, from seconds to months. You can pump fluid at either a constant flow rate or a constant pressure, specifying the precise flow rate or pressure to be maintained. A ramping feature enables the pumps to provide a smooth transition between multiple rate, pressure, or volumetric settings. 5000 Series pumps can also operate in either direction, letting you easily deliver or withdraw fluid to or from an application.

The high temperature (HT) version of the Q5000 allows the entire syringe pump body to be placed in an oven, with the motor extending outside the oven wall. By keeping the fluid, piston and cylinder barrel at a uniform temperature, volumetric errors due to thermal expansion and contraction are eliminated.

All 5000 Series pumps are operated from our Quizix PumpWorks Software program. PumpWorks provides compete control using any of the 12 standard modes of operation, and is easily configured for data logging and graphing of important pump functions.

Quizix RELIABILITY
Precise specifications would be worth little without the durability and reliability built into every Quizix pump. Unique valve technology eliminates the maintenance headaches associated with check valves ensuring that they will operate flawlessly for years. The pumps' long-wearing piston seals are readily accessible and easy to replace if needed.

The Q5000 pumps can be ordered with either Stainless Steel or Hastelloy® (C-276) wetted parts. For pumping corrosive or hazardous materials, an optional Wash Area is available for continual cleaning.
Max. Pressure 10,000 psi (689 Bar)
• Max. Flow rate 15 ml/min
• Min. Flow rate 18 nl/min
• Pulse-less flow/pulse-free flow
• Single Stroke Volume: 9.3 ml
• HT option: max. 320ºF (160ºC)
System Options
Pumping Capacity Options
Single* pump cylinder
Delivery of up to 9.3 ml of one fluid
Paired* pump cylinders
Continuous pumping of a single fluid
Delivery of up to 9.3ml each of two fluids
High Temperature (HT) Cylinder Body
Allows entire cylinder body to be placed into an oven assembly for temperature up to 320F (160C)










*Systems with from 1 to 8 cylinders are available. Contact us to discuss your needs.
Q5000 Precision Metering Pumps
Model
Max Pressure
Max Flow Rate
Cylinder
Stroke Volume
Min Flow Rate
Options
Q5000-2.5K
2500 psi
17.2 MPa
60 mL/min
3,600 mL/hr
37 mL
186 nL/min
11,200 nL/hr
SS or HC
HT
Q5000-5K
5,000 psi
34.5 MPa
30 mL/min
1,800 mL/hr
21 mL
105 nL/min
6,300 nL/hr
SS or HC
HT
Q5000-10K
10,000 psi
68.9 MPa
15 mL/min
900 mL/hr
9.3 mL
18 nL/min
1,080 mL/hr
SS or HC
HT
Q5000-20K
20,000 psi 137.9 MPa
7.5 mL/min
450 mL/hr
5.2 mL
10 nL/min
600 mL/hr
HC

Notes:
SS: Wetted components may be ordered in stainless steel 316
HC: Wetted parts may be ordered in HASTELLOY® C-276
HT: Available with high temperature option for heating fluid ends up to 320˚F / 160˚C
Computer required to run PumpWorks™ pump control software.

Utilities
Air: 65 – 100 psi / 450 – 690 kPa, clean and dry
Power: 120/240 VAC, 50/60 Hz
Resource & Download
Lưu ý: Nếu một thiết bị nào đó không được liệt kê ở đây, điều đó không có nghĩa rằng chúng tôi không hỗ trợ được bạn về thiết bị đó.
Hãy liên hệ với chúng tôi
 để biết danh sách đầy đủ về thiết bị mà chúng tôi có thể hỗ trợ và cung cấp.
INO: Bán, Báo giá, tư vấn mua sắm và cung cấp, tư vấn sản phẩm thay thế; tương đương, hướng dẫn sử dụng, giá…VNĐ, …USD info@ino.com.vn | INO Sales: 028 73000184 | Chandler Engineering-Quizix precision pumps (Model:5000).