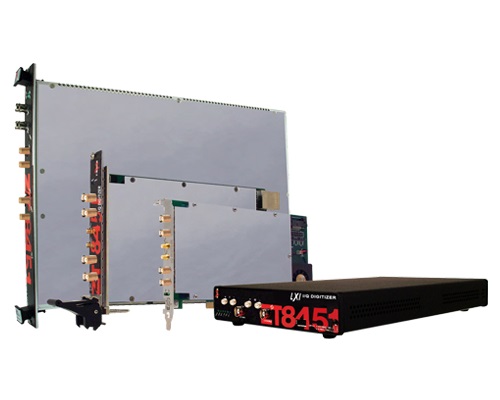 Lưu ý: Tham khảo ý kiến của nhân viên INO sẽ giúp bạn tiết kiệm được thời gian và chi phí khi cần mua sắm. ​​Với sự tư vấn của chúng tôi, bạn sẽ không gặp khó khăn khi tìm hiểu về đặc tính của sản phẩm cần mua.
The ZT8450 series is a new addition in the Company's RF & Wireless Communication product line. The ZT8450 I/Q Digitizer functions as a baseband Vector Signal Analyzer (VSA) from DC to 300 MHz. This new baseband VSA provides the signal fidelity and real-time processing capabilities that enable a broad set of necessary RF and wireless test techniques, such as performing EVM (error vector magnitude), ACLR (adjacent channel leakage ratio) and IM3 (3rd-order intermodulation distortion) measurements or addressing complex MIMO applications. The ZT8450 provides the combination of high instantaneous bandwidth, high dynamic range, very high linearity, and very low phase noise necessary to test and characterize the latest and next generation of RFIC components.

The ZT8450 Series I/Q Digitizer comes standard with a full featured, on-instrument spectrum analyzer, and is poised to supply the rapidly growing RF market with a world-class testing solution at a competitive price. The ZT8450 is equipped with future-proof technical specifications including:
Real-time Quadrature Digital Down Converter (DDC) with fractional resampling and decimation
Vector signal analysis capability of an ultra wide, 160MHz instantaneous bandwidth
Extremely low noise floor and a high dynamic range
Fast switching and all-digital frequency hopping
Real-time highly flexible FPGA processing

The ZT8450 Series leverages ZTEC Instruments' value-add to modular instruments by providing an intuitive GUI, ZSignal™. ZSignal™ provides advanced integration and support with a simple and familiar interface to ease the transition from a bench-top spectrum analyzer to its modular instrument counterpart. ZSignal™ was built in accordance with award-winning ZScope® and ZWave® platforms to minimize the time needed to integrate the instrument into both new and legacy software.

ZTEC Instruments adds support for the up and coming IEEE 802.11ac WIFI standard, supporting modulation bandwidths of up to 160 MHz with 80 dB Spurious Free Dynamic Range (SFDR). The ZT8450 series supports the wide channel bandwidth of 802.11ac, a new WIFI standard that is projected to deliver data rates of 1Gb/s.
Quick Specs
Product
Resolution
Analog Bandwidth
Sample Rate
Real-Time Sig.
Processing
Channel
Max Record
Length
ZT8451
IQ Digitizer
14 bit
300 MHz
400 MS/s
100 Hz to 160 MHz FPGA based
DDC w/ fractional resampling
2 Differential
512 MiB
Resource & Download
Lưu ý: Nếu một thiết bị nào đó không được liệt kê ở đây, điều đó không có nghĩa rằng chúng tôi không hỗ trợ được bạn về thiết bị đó.
Hãy liên hệ với chúng tôi
 để biết danh sách đầy đủ về thiết bị mà chúng tôi có thể hỗ trợ và cung cấp.
INO: Bán, Báo giá, tư vấn mua sắm và cung cấp, tư vấn sản phẩm thay thế; tương đương, hướng dẫn sử dụng, giá…VNĐ, …USD info@ino.com.vn | INO Sales: 028 73000184 | ZTEC Instruments-RF&Communications Test Equipment (Model:ZT8450 Series).