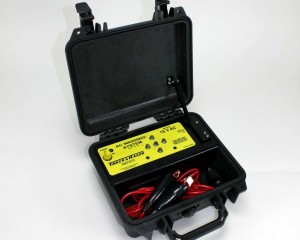 Lưu ý: Tham khảo ý kiến của nhân viên INO sẽ giúp bạn tiết kiệm được thời gian và chi phí khi cần mua sắm. ​​Với sự tư vấn của chúng tôi, bạn sẽ không gặp khó khăn khi tìm hiểu về đặc tính của sản phẩm cần mua.
Features:
Monitors AC on pipelines or structures

Alarm at 15v AC Threshold
Conforms to NACE SP0177-2007
Audio and Visual Alarms
Calibration Test Unit
Superbright LED's
Replaceable 9v Batteries
Construction:
Housed in "Mil-Spec" Locking Case
Includes lid lock so instrument will not close accidentally while in operation
Locking Cable Connector
Storage inside case for all included acessories
AC-15 Come With:
AC-15 AC Warning System
6' Cables with copper clamps
Mil-Spec Lockable Case
Batteries, (2) 9 Volt
AC Tester Unit
Model 6-A Copper-Copper/Sulfate Reference Electrode
Specifications:
Alarm Threshold: 14.6v AC
Full Alarm: 14.8v AC
Led Intensity: 8000 mcd
Alarm Volume <90 db at 108"
Operating Voltage 9v
Environment:
-19ºC to 60ºC (-2ºF to 140ºF)
Dimensions:
5.75" x 12.25" x 10" 5 lbs 146mm x 311mm x 254mm, 2.27kg)
Shipping Demensions:
14" x 12" x 6", 5lbs (355.6mm x 304.8mm x 15.24mm, 2.72kg)
Resource & Download
Lưu ý: Nếu một thiết bị nào đó không được liệt kê ở đây, điều đó không có nghĩa rằng chúng tôi không hỗ trợ được bạn về thiết bị đó.
Hãy liên hệ với chúng tôi
 để biết danh sách đầy đủ về thiết bị mà chúng tôi có thể hỗ trợ và cung cấp.
INO: Bán, Báo giá, tư vấn mua sắm và cung cấp, tư vấn sản phẩm thay thế; tương đương, hướng dẫn sử dụng, giá…VNĐ, …USD info@ino.com.vn | INO Sales: 028 73000184 | Tinker & Rasor – AC Warning System Detects Induced AC on Pipelines (Model: AC15).