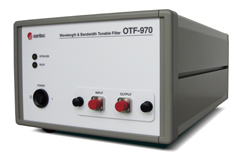 Lưu ý: Tham khảo ý kiến của nhân viên INO sẽ giúp bạn tiết kiệm được thời gian và chi phí khi cần mua sắm. ​​Với sự tư vấn của chúng tôi, bạn sẽ không gặp khó khăn khi tìm hiểu về đặc tính của sản phẩm cần mua.
Center wavelength adjustment & bandwidth tuning Independently
Santec has developed a new programmable optical tunable filter (OTF-970) that combines the attractive features of wide C+L band tunability with of bandwidth tuning and sharp filter slope. Built with novel, free-space custom optics and an ultra-fine tuning mechanism the OTF-970 ensures precise filter control and a flat-top passband shape. The filter is particularly suited to high isolation channel selection and noise filtering in high-speed transmission testing at 40Gb/s and 100Gb/s.
The OTF-970 line up consists of two versions depending on transmission bandwidth range and slope shape. The Standard type has 0.1 to 15nm adjustable bandwidth with a filter slope of 200dB/nm, and the ultra-fine type has 0.08 to 4nm bandwidth tuning with our steepest filter slope, 400dB/nm. The fully programmable OTF-970 has automatic adjustment of the filter center wavelength and bandwidth. An integrated power meter monitors output power and features an automatic peak search function. The setting of wavelength and the bandwidth can be automated and be operated remotely by the GPIB interface.
Features
Center wavelength adjustment & bandwidth tuning independently
Wavelength range: 1525-1610nm (C&L Band)
Bandwidth range:
Standard 0.1 – 15.0nm, Ultra-Fine 0.08 – 4.0nm
Flat-top filter shape with a steep filter slope
Standard 200dB/nm, Ultra-Fine 400dB/nm
Peak search function
Programmable
Supporting control software (USB / GP-IB)
Applications
40Gb/s , 100Gb/s transmission test
WDM wavelength tuning
ASE noise filtering
Next generation bundle wavelength OXC
Pulse shaping
Flexible test and measurement
Specifications
Parameter
Unit
Standard
Ultra-Fine
Notes
Min.
Typ.
Max.
Min.
Typ.
Max.
Wavelength Range
nm
1525
1610
1525
1610
Bandwidth
@-3dB
nm
0.1
15.0
0.08
4.0
@-20dB
nm
0.4
15.5
0.25
4.5
Wavelength Accuracy
nm
±0.3
±0.5
±0.3
±0.5
Bandwidth Accuracy
nm
±0.3
±0.5
±0.3
±0.5
Insertion Loss
Bandwidth

>

0.2nm
dB
3.5
5
3.5
5
*1, 2
Bandwidth < 0.2nm
dB
5.5
7
5.5
7
*1, 2
Filter slope
dB/nm
200
400
Group Velocity Dispersion
ps/nm
±0.2
±0.2
Polarization Dependent Loss
dB
0.25
0.25
Polarization Mode Dispersion
ps
0.2
0.2
Crosstalk
dB
50
50
Return Loss
dB
45
45
*1:In case of peak search option, the insertion loss increases by 0.5dB
*2:The insertion loss at (1525nm – 1530nm) wavelength range may increase by 1dB.
Lưu ý: Nếu một thiết bị nào đó không được liệt kê ở đây, điều đó không có nghĩa rằng chúng tôi không hỗ trợ được bạn về thiết bị đó.
Hãy liên hệ với chúng tôi
 để biết danh sách đầy đủ về thiết bị mà chúng tôi có thể hỗ trợ và cung cấp.
INO: Bán, Báo giá, tư vấn mua sắm và cung cấp, tư vấn sản phẩm thay thế; tương đương, hướng dẫn sử dụng, giá…VNĐ, …USD info@ino.com.vn | INO Sales: 028 73000184 | SANTEC-Wavelength&Bandwidth Tunable Filter (Model:OTF-970).