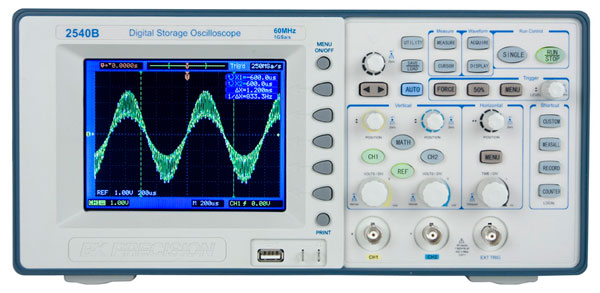 Lưu ý: Tham khảo ý kiến của nhân viên INO sẽ giúp bạn tiết kiệm được thời gian và chi phí khi cần mua sắm. ​​Với sự tư vấn của chúng tôi, bạn sẽ không gặp khó khăn khi tìm hiểu về đặc tính của sản phẩm cần mua.
The 2540B Digital Storage Oscilloscope delivers an unmatched combination of performance and value. Analog style controls combined with an Auto set function make this oscilloscope easy to use. Advanced features such as digital filtering, FFT, waveform recorder, pass/fail testing, and automatic measurements provide you with powerful tools to debug your circuits. Users can also benefit from the 2540Bâ's deep waveform memory, which allows capturing of waveforms in high resolution over longer periods of time. Additionally, the instrument includes a USB and LAN port for remote PC control through Comsoft PC software or SCPI commands. The 2540B is an ideal oscilloscope for use in education and training, design and debug, and service and repair.
60 MHz bandwidth, 1GSa/s sample rate
Deep waveform memory up to 2.4 Mpts
28 automatic measurements
FFT plus three additional math functions
Extensive trigger capabilities including pulse width, video, slope, and alternating trigger
Built-in context sensitive help system
For educators â" ability to disable the Auto set button
PC software that lets you remotely control the oscilloscope and capture, save, and analyze waveform data
Front panel USB port for convenient storing and recalling of waveform data, setups, and screenshots on a USB flash drive
LAN interface enables users to capture screenshots from any standard web browser
Seamlessly load waveforms from the oscilloscope to WaveXpress waveform editing software and send them to arbitrary waveform generators
Lưu ý: Nếu một thiết bị nào đó không được liệt kê ở đây, điều đó không có nghĩa rằng chúng tôi không hỗ trợ được bạn về thiết bị đó.
Hãy liên hệ với chúng tôi
 để biết danh sách đầy đủ về thiết bị mà chúng tôi có thể hỗ trợ và cung cấp.
INO: Bán, Báo giá, tư vấn mua sắm và cung cấp, tư vấn sản phẩm thay thế; tương đương, hướng dẫn sử dụng, giá…VNĐ, …USD info@ino.com.vn | INO Sales: 028 73000184 | Metrix Electronics-60 MHz 1 GSa/s Digital Storage Oscilloscope (Model: BK2540B).