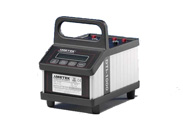 Lưu ý: Tham khảo ý kiến của nhân viên INO sẽ giúp bạn tiết kiệm được thời gian và chi phí khi cần mua sắm. ​​Với sự tư vấn của chúng tôi, bạn sẽ không gặp khó khăn khi tìm hiểu về đặc tính của sản phẩm cần mua.
The DTI-1000 digital temperature indicator is a fully traceable thermometer recommended as the reference instrument to verify the true temperature of any type of temperature calibrator, liquid bath or dry-block calibrator.
The DTI-1000 can be used with a JOFRA STS Superior Temperature Standard probes as the working temperature reference in nearly any calibration application, or it can be set up directly in custody transfer applications where high accuracy (low uncertainty) is important.
The superior performance of the DTI-1000 along with AMETEK's long history of providing reliable, low-drift calibration instruments have made the JOFRA DTI-1000 and STS probes the working standard in many national laboratories worldwide.
Accurate to +/-0.004°C (+/-0.009°F), the DTI-1000 employs state-of-the-art DC measuring techniques in combination with powerful microprocessor technology. It utilizes True Ohm Measurement that achieves accurate compensation for errors induced by thermal effects and eliminates the EMF from cables, sockets and sensors.
Features for the DTI-1000
High accuracy 0.004°C (0.009°F)
Resolution 0.1 – 0.01 or 0.001
True-Ohm measuring principle
Dual channel inputs A and B, with differential value A-B, peak hold, etc.
Range -200°C to 750°C (-328°F to 1,382°F)
Battery or mains adapter supply
RS232 interfase as standard
Calibration PC software included
Resource & Download
Lưu ý: Nếu một thiết bị nào đó không được liệt kê ở đây, điều đó không có nghĩa rằng chúng tôi không hỗ trợ được bạn về thiết bị đó.
Hãy liên hệ với chúng tôi
 để biết danh sách đầy đủ về thiết bị mà chúng tôi có thể hỗ trợ và cung cấp.
INO: Bán, Báo giá, tư vấn mua sắm và cung cấp, tư vấn sản phẩm thay thế; tương đương, hướng dẫn sử dụng, giá…VNĐ, …USD info@ino.com.vn | INO Sales: 028 73000184 | Ametek Calibration Instruments-Reference Digital Temperature Indicator( Model:DTI-1000).