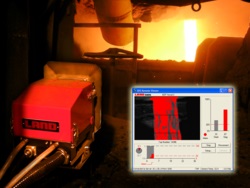 Lưu ý: Tham khảo ý kiến của nhân viên INO sẽ giúp bạn tiết kiệm được thời gian và chi phí khi cần mua sắm. ​​Với sự tư vấn của chúng tôi, bạn sẽ không gặp khó khăn khi tìm hiểu về đặc tính của sản phẩm cần mua.
Overview
The Slag Detection System has been developed using Land's expert knowledge of the application and over 60 years of experience in the steel industry to monitor and aid control of slag carry-over from one process to another.
The Slag Detection System is specially designed to withstand the harsh conditions of continuous operation in the steel plant, with a minimum maintenance requirement. The industrial thermal imaging sensor is housed in a rugged, water-cooled and air purged enclosure, continuously viewing the tapping area. As the tap commences, the dedicated software automatically begins to record the tap as well as producing a data log and graph of the relevant steel/slag data.
When the level of slag reaches the pre-determined level and alarm is generated (see above) to stop the tap. The recording will end and the files saved by tap number. Full access of the tapping data is available to the operator for quality control purposes.
Specification
Temperatures
Low Temperature (C):
600
High Temperature (C):
2000
Low Temperature (F):
1112
High Temperature (F):
3632
Image Processing System
Slag detection:
Alarm activation when a preset percentage of either slag or steel detected within defined window
User Display:
Front page information display, plant logo and identifier

Frame rate:

30 frames/sec.
Automatic functions:
Auto tap detection, steel/slag ratio, video file, log file of all data, steel/slag percentage graph, all saved as tap number
Languages:
User defined
Outputs:
Digital output card, DDE, OLE, Ethernet and OPC Options
Sensor Supply Unit
Functions:
Local connection interface between imaging sensor and image processing system
Ethernet/Fibreoptic Cables:
Supplied by the customer

Enclosure

Service:
Water, air, power input, communications, video, located to the rear of the enclosure
Added Protection:
Sacrificial plate protects the main enclosure from direct impact
Sighting Tube:
Design significantly reduces the risk of direct impact of liquid steel against the field replaceable sapphire window
Air bleed:
Provides positive pressure within the enclosure
Environmental rating:
IP65
Thermal Imaging Sensor
Temperature measurement range:
600 to 2000 °C
Thermal image resolution:
384 x 288 pixels
Detector:
Microbolometer, focal plane array
Wavelength:
3.9 µm
Field of View:
7.5° x 5.5°
Motorised focusing range:
4m to infinity
Options: Blower unit, setup monitor, sensor carry case
Resource & Download
Lưu ý: Nếu một thiết bị nào đó không được liệt kê ở đây, điều đó không có nghĩa rằng chúng tôi không hỗ trợ được bạn về thiết bị đó.
Hãy liên hệ với chúng tôi
 để biết danh sách đầy đủ về thiết bị mà chúng tôi có thể hỗ trợ và cung cấp.
INO: Bán, Báo giá, tư vấn mua sắm và cung cấp, tư vấn sản phẩm thay thế; tương đương, hướng dẫn sử dụng, giá…VNĐ, …USD info@ino.com.vn | INO Sales: 028 73000184 | Land-Slag Detaction System.