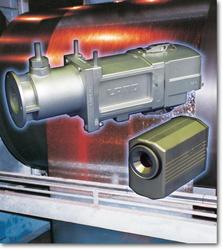 Lưu ý: Tham khảo ý kiến của nhân viên INO sẽ giúp bạn tiết kiệm được thời gian và chi phí khi cần mua sắm. ​​Với sự tư vấn của chúng tôi, bạn sẽ không gặp khó khăn khi tìm hiểu về đặc tính của sản phẩm cần mua.
Overview
The Land GST has been specifically developed to provide continuous and accurate measurement of both temperature and emissivity on coated steel strip during the galvanneal reaction.
Specification
Temperatures
Low Temperature (C):
350
High Temperature (C):
550
Low Temperature (F):
662
High Temperature (F):
1022
Thermometer type:
GST
Processor type:
LMG GS
Measurement range (specified):
350 to 550°C/662 to 1022°F
Display range:
300 to 600°C/600 to 1100°F
Response time:
1s to 98%
Target size:
89mm/3.5 in at 2m/78.0in
Resolution:
2°C/4°F
Absolute accuracy:
±5°C/9°F after optimization with APCOS (in application)
System output Temperature:
0 to 20mA or 4 to 20mA (normally non-isolated, isolated option available; nominal load resistance 500 ohms, max load including wiring 600ohms)
Emissivity:
0.1 to 1.0V (output impedance 1Kohm)
Alarm relays:
Contact rating 50V a.c./ d.c. at 0.5A max
Output update time:
10ms
Power supply:
100/110/120/220/240V a.c., ±10%, 50/60 Hz, ±10%, 20VA nominal
Signal processing functions
Average:
63% time constant adjustable 0 to 500s
Peak picker:
Acquisition time to 98% 1.1s, decay rate adjustable 0 to 400°/s: on and off delays 20ms adjustable; delay threshold temp. set in 1° steps
Ambient temperature limits
Thermometer:
5 to 45°C/40 to 110°F
Processor:
5 to 50°C/40 to 140°F
Weight
Thermometer:
0.8 kg/1.76lb approx
Processor:
3.6 kg/7.93lb approx
EMC:
EN 50-082-2 (immunity), EN 50-081-1 (emission), IEC1010-1 (safety)
Resource & Download
Lưu ý: Nếu một thiết bị nào đó không được liệt kê ở đây, điều đó không có nghĩa rằng chúng tôi không hỗ trợ được bạn về thiết bị đó.
Hãy liên hệ với chúng tôi
 để biết danh sách đầy đủ về thiết bị mà chúng tôi có thể hỗ trợ và cung cấp.
INO: Bán, Báo giá, tư vấn mua sắm và cung cấp, tư vấn sản phẩm thay thế; tương đương, hướng dẫn sử dụng, giá…VNĐ, …USD info@ino.com.vn | INO Sales: 028 73000184 | Land-Galvanneal Thermometer and enclosure ( Model: GST ).