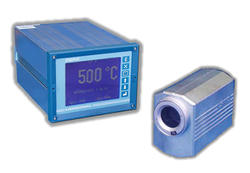 Lưu ý: Tham khảo ý kiến của nhân viên INO sẽ giúp bạn tiết kiệm được thời gian và chi phí khi cần mua sắm. ​​Với sự tư vấn của chúng tôi, bạn sẽ không gặp khó khăn khi tìm hiểu về đặc tính của sản phẩm cần mua.
Overview:
TheLand aluminum Strip Thermometer systemis specifically designed to provide the aluminum hot rolling industry with a solution to one of its most difficult problems – accurate and reproducible temperature measurement of bright, semi-finished hot alloy strips.
Key Features
– Accurate optimization using dedicated set-up unit.
– Computer software to automate system optimization.
– Highly reliable, drift-free measurement.
– The LMG AR Processor provides digital indication of temperature as well as 0 or 4 to 20mA analog outputs for connection to data recording or mill control equipment. An optional math Function Card permits mathematical comparisons to be made between thermometer inputs. Results may be used to drive outputs to the plant control system.
Key Benefits
– Reduced finishing costs.
– AST can infer potential problems on preceding Breakdown Mill operations, ie reduction in coolant.
– Improved process control.
– Accurate reliable temperature measurement to within +10 °C/18 °F after optimization.
Specification:
Temperatures
Low Temperature (C):
300
High Temperature (C):
500
Low Temperature (F):
572
High Temperature (F):
932
Thermometer type:
AST
Measurement range (specified):
Mill entry: 300 to 550 °C/570 to 1100 °F
Mill exit:: 250 to 400 °C/500 to 750 °F
Response time:
1s to 98%
Target size:
98mm/3.9 in at 2m/78.0in
Resolution:
2 °C/4 °F
Absolute accuracy:
Better than 10 °C/18 °F after optimization (in application)
System output:
0 to 20mA or 4 to 20mA (nominal load resistance 500ohms, max load including wiring 600ohms)
Surface emissivityindication:
0 to 20mA covering emissivity range 0.00 to 1.00
Nominal load resistance 500 ohms, max load including wiring 600ohms)
Alarm relays: contact rating 50V a.c./ d.c. at 0.5A max
Output update time:
30ms (thermometer channel output)
500ms (math card output – optional)
Sealing:
IP65
Vibration:
3G any axis, 10 to 300Hz
Processor type:
LMG AR (1 to 4 thermometer I/O channels)
I/O card type:
AST I/O card
Power requirements:
110 to 120V a.c. or 220 to 240V a.c., 48 to 62Hz, 35VA (max. with 4 thermometers)
Signal Processing Functions Time average:

63% time constant adjustable 0 to 500s
Ambient temperature limits:
Thermometer
Processor
5 to 45 °C/40 to 110 °F
5 to 50 °C/40 to 140 °F
Weight
Thermometer: Processor:
0.8 kg/1.76lb approx
3.6 kg/7.93lb approx
EMC:
EN 50-082-2 (immunity),
EN 50-081-1 (emission),
IEC1010-1 (safety)
For recommendations on thermometer sighting and mounting, refer to LAND.
Resource & Download
Lưu ý: Nếu một thiết bị nào đó không được liệt kê ở đây, điều đó không có nghĩa rằng chúng tôi không hỗ trợ được bạn về thiết bị đó.
Hãy liên hệ với chúng tôi
 để biết danh sách đầy đủ về thiết bị mà chúng tôi có thể hỗ trợ và cung cấp.
INO: Bán, Báo giá, tư vấn mua sắm và cung cấp, tư vấn sản phẩm thay thế; tương đương, hướng dẫn sử dụng, giá…VNĐ, …USD info@ino.com.vn | INO Sales: 028 73000184 | Land-aluminum Strip Thermometer system.