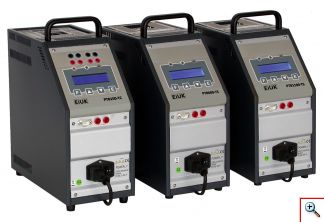 Lưu ý: Tham khảo ý kiến của nhân viên INO sẽ giúp bạn tiết kiệm được thời gian và chi phí khi cần mua sắm. ​​Với sự tư vấn của chúng tôi, bạn sẽ không gặp khó khăn khi tìm hiểu về đặc tính của sản phẩm cần mua.
The EiUK PTB series is the top of the range multi functional Dry Block Temperature Calibrators offered byEiUK– It comes in 3 different models to cover and extended range from -45 to 1100 Deg C.
The EiUK PTB series is designed for both on-site maintenance or laboratory use and combines high portability with excellent temperature performance. All PTB model are equipped with RS232 serial communication ( USB converter available). The Standard delivery also include the EIUK-CAL calibration PC software.
Features
Accuracy ±0.08°C
Down to ±0.08°C using our external reference sensor and special calibration with built-in reference sensor input
Excellent stability ±0.03˚C
New controller and block design
Built-in dual channel readout (TC version)
Read simultaneously external reference sensor and unit under test
Wider temperature range
PTB 150 from -50 to 150°C (from ambient)
PTB-600 from T Amb to 600°C
PTB-1100 from 200 to 1100°C
Deeper Immersion and large well 220×44 mm
Perform even larger diameter sensor calibration
Use as Dry Block, Black Body Source or Zero Reference
Unique range of multifunctional insert to extend the range of application
Fast heating/cooling time and light weight
Save time and money
Resource & Download
Lưu ý: Nếu một thiết bị nào đó không được liệt kê ở đây, điều đó không có nghĩa rằng chúng tôi không hỗ trợ được bạn về thiết bị đó.
Hãy liên hệ với chúng tôi
 để biết danh sách đầy đủ về thiết bị mà chúng tôi có thể hỗ trợ và cung cấp.
INO: Bán, Báo giá, tư vấn mua sắm và cung cấp, tư vấn sản phẩm thay thế; tương đương, hướng dẫn sử dụng, giá…VNĐ, …USD info@ino.com.vn | INO Sales: 028 73000184 | EiUK EUROTRON-Portable Temperature Calibrators ( MODE:PTB Series).