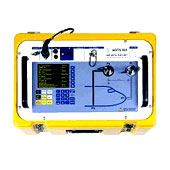 Lưu ý: Tham khảo ý kiến của nhân viên INO sẽ giúp bạn tiết kiệm được thời gian và chi phí khi cần mua sắm. ​​Với sự tư vấn của chúng tôi, bạn sẽ không gặp khó khăn khi tìm hiểu về đặc tính của sản phẩm cần mua.
The ADTS 505 is the latest in a series of reliable, compact and high accuracy Air Data Test Sets.The flightline design has evolved as a result of GE Infrastructure Sensing continuous research and development, customer feedback and experience gained from manufacturing thousands of automatic pressure controllers. This has enabled performance, ease of maintenance and operational simplicity to be optimized.
Features
High accuracy – RVSM compliant
Fully automatic control
Rugged flightline construction
Wide ranging aircraft compatibility
Integral pneumatic supplies
Protection for aircraft instruments
Standard remote hand terminal
Specifications
The ADTS 505 is housed in a rugged weatherproof case, complete with internal pneumatic pumps for pressure and vacuum generation. Automatic control is implemented by simple menu instruction and keypress at the front panel.
Scaling Factors
Altitude: ft, meters
Airspeed: knots, km/hr, mph
Rate of Climb: ft/min, m/min, m/s, hm/s
Others: mbar, inHg, inH2O, mmHg, kPa, hPa, psi
Rate Control/Indication
Roc: Rate of Climb
Rt Ps: Rate of Static
Rt Pt: Rate of Pitot
Rt Qc: Rate of Pt_Ps
Rt CAS: Rate of calibrated airspeed
Rt EPR: Rate of engine pressure ratio
Overpressure
Negligible calibration change with up to 1.25 x full scale (FS) overload applied.
Calibration Stability
Better than 0.005% (Ps) and 0.08% (Qc) FS per annum.
Recalibration
Simple keypad instruction. 12 month interval suggested. Use of primary standard pressure reference (e.g. Ruska Primary Pitot Static Tester model 2468) is recommended.
Display
Large area, 1/4 VGA, high contrast, electro-luminescent display. 96 mm x 73 mm (3.7 in x 2.8 in), 320 x 240 pixels.
Response
Two readings-per-second display value update.
Power Supplies
Auto-selection between:
100/120/230 Vac, 50/60 Hz, Power – 200 VA
115 Vac, 400 Hz, Power – 200 VA
Power Failure Protection
System locks, and a manual let-down feature is provided.
Self Test
Integral test routines and reporting for both electrical and pneumatic systems.
Temperature Range
Calibrated: 5°C to 35°C (41°F to 95°F)
Operating: 0°C to 50°C (32°F to 122°F)
Storage: -20°C to 70°C (-4°F to 158°F)
Sealing
Weatherproof in operating mode (lid removed).
Humidity
0 to 95% non-condensing. "Tropicalized" specification.
Shock/Vibration
Designed to meet MIL-T-28800 Class 2.
Conformity
EN61010, EN61326. CE marked.
Physical
Weight 15 kg (33 lb) nominal
Dimensions (including lid): 265 mm x 520 mm x 355 mm (10.4 in x 20.5 in x 14 in)
Case
ABS moulded case with removable lid and storage for accessories.
Pneumatic Connections
AN4 for Ps and Pt, both color-coded.

Supplied with mating (approximately) 2 m (6 ft) long flexible hoses with AN4 fittings at one end.

Pneumatic Supplies
Integral pressure and vacuum pumps capable of generating the following supply rates:

1829 m/min (6000 ft/min) into a 4 litre volume at 9144 m (30,000 ft)
300 knots/min into a 2 litre volume at 650 knots
Water/moisture content is vented automatically.

Accessories
AC power lead—2 m (6 ft) length approximately. Ps and Pt hoses—2 m (6 ft) lengths approximately. Operators manual and calibration certificate also supplied as standard.
Calibration Standards
Instruments manufactured by GE are calibrated against precision calibration equipment traceable to international standards.
Resource & Download
Lưu ý: Nếu một thiết bị nào đó không được liệt kê ở đây, điều đó không có nghĩa rằng chúng tôi không hỗ trợ được bạn về thiết bị đó.
Hãy liên hệ với chúng tôi
 để biết danh sách đầy đủ về thiết bị mà chúng tôi có thể hỗ trợ và cung cấp.
INO: Bán, Báo giá, tư vấn mua sắm và cung cấp, tư vấn sản phẩm thay thế; tương đương, hướng dẫn sử dụng, giá…VNĐ, …USD info@ino.com.vn | INO Sales: 028 73000184 | DRUCK-Air Data Test Set(Model: ADTS 505) .