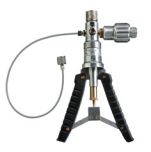 Lưu ý: Tham khảo ý kiến của nhân viên INO sẽ giúp bạn tiết kiệm được thời gian và chi phí khi cần mua sắm. ​​Với sự tư vấn của chúng tôi, bạn sẽ không gặp khó khăn khi tìm hiểu về đặc tính của sản phẩm cần mua.
Pneumatic vacuum and pressure hand held test pump for generating
calibration pressures from -1 to 60 bar/870 psi
Pressure Range: -0.9 bar to 60 bar (870 psi)
Pressure Connection: 3/8 BSP female connection with 1/2 BSP female swivel adapter
Test Point: Flexible Test Hose with 1/4 BSP Female adapter
Resolution: fine vernier adjustment with 1 mbar resolution
PGS-60 Pneumatic Calibration Pump
The PGS 60 is an hand operated pneumatic test pump capable of generating pressure in excess of 60 bar(870 psi) and vacuum down to 96 %.It is designed to be used in conjunction with a precision indicator or a test gauge which is directly mounted on the reference port on the top of the pump. The instruments under test ( UUT) is connected to the test hose supplied with the standard delivery
PGS-60 Technical Specifications
Calibration Hand Pump
PGS60-OEM
PGS60-OEM-N14
Vacum Range:
-960 mbar (28InHg)
Pressure Range:
60 bar ( 870 psi)
Pressure media:
air
Fine adjustment resolution:
1 mbar
Reference Port
3/8 Inch BSP F
Reference Port Aadapter (supplied)
1/2 inch BSP F swivel adapter
1/4 inch NPT F
Test Point
Flexible Test Hose with 1/4 inch BSP F test point adapter
Flexible Test Hose with 1/4 inch NPT F test point adapter
Weight
510 g
Dimension
290x185x65 mm
Material
Aluminium, brass, ABS, NBR
Ordering Code
PGS60-OEM
PGS60-OEM-N14
PGS-60 Applications
Test and Calibration of medium Pressure gauges, transmitters, pressure indicators
Generate vacuum and pressure from -850 mbar to 60 bar
Ideal to be used with any reference pressure device
PGS-60 Pneumatic Pressure Test Kits
Combined vacuum/pneumatic kit for low pressure testing includes:
PGS-60-OEM pump
Set of BSP or NPT adaptors (to be specified)
Set of seals
Pressure hose with 1/4" BSP F adaptor (0.5 meter)
Robust ABS transit case with customised foam and cells
Resource & Download
Lưu ý: Nếu một thiết bị nào đó không được liệt kê ở đây, điều đó không có nghĩa rằng chúng tôi không hỗ trợ được bạn về thiết bị đó.
Hãy liên hệ với chúng tôi
 để biết danh sách đầy đủ về thiết bị mà chúng tôi có thể hỗ trợ và cung cấp.
INO: Bán, Báo giá, tư vấn mua sắm và cung cấp, tư vấn sản phẩm thay thế; tương đương, hướng dẫn sử dụng, giá…VNĐ, …USD info@ino.com.vn | INO Sales: 028 73000184 | EiUK EUROTRON-Calibration Hand Pump : -1 to 60 bar/870 psi (Model:PGS-60) .