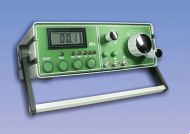 Lưu ý: Tham khảo ý kiến của nhân viên INO sẽ giúp bạn tiết kiệm được thời gian và chi phí khi cần mua sắm. ​​Với sự tư vấn của chúng tôi, bạn sẽ không gặp khó khăn khi tìm hiểu về đặc tính của sản phẩm cần mua.
The EiUK PC4is an appliance for verification and calibration of pressure sensors, pressure gauges, as well as pressure switches for low pressures. The combination pressure measuring unit and pressure generator allows a variety of applications in the laboratory as well as in the field.
The EiUK PC4 can be used with battery (9V E-block) or from the mains (plug-in power supply). The robust inductive measuring cell covers a wide pressure measuring range by means of a 1 : 5 pressure range selector.
The EiUK PC4 can be delivered for 3 standard measuring ranges. Response time of the measuring signal can be selected for 3 steps. The pressure is displayed on a high contrast LC display with 12.5 mm characters. An analogue output is available on request. For greater volumes an integrated hand pump is used to generate pressure and metal belows is used for precise adjustment. Two integrated valves are used to vent the measuring equipment.
PC4 Benefits and Features
Pressure Calibrator with internal pressure source up to 1000 mbar
Pressure
Vacuum
Differential Pressure
PC4 Technical Specification
Technical Specification:
Type:
PC4-10
PC4-100
PC4-1000
Pressure range:
0…10 mbar
0…100 mbar
0…1000 mbar
Switch-selectable to:
0…1.999 mbar
0…19.99 mbar
0…199.9 mbar
Overload:
10 times
10 times
2 times
Measurement principle:
inductive
Medium:
non-aggressive dry clean gases
Wetted parts:
Ni, Al, CuBe, PU
Linearity:
0.2% FS
Hysteresis:
0.1% max. FS
Long term stability:
±0.5% per year (typical)
Sensor volume:
appr. 3 ml
Volume increase:
appr. 0.2 ml at nominal pressure
Pump:
displacement volume variable
Bellows (fine adjustment):
displacement volume appr. 25 cm³ at 20 crankshaft rotations
Power supply:
9 V E-Block or Plug-in power supply 230 VAC 50/60 Hz
Current consumption:
appr. 10 mA
Protection:
250 mA
Supply influence:
< 0.05%
Option:
analogue output 0…1 V (max. load resistance > 2 KOhm)
Display:
LCD 3 1/2 digits (12.5 mm); Option: LCD 4 1/2 digits (12.5 mm)
Response time:
adjustable 0.3 / 1 / 2 seconds
Pressure connections:
diameter 6.6 mm x 1 mm (for flexible hose with 6 mm diam.)
Electrical connections:
power supply jack plugs; 4 mm banana plugs for optional analogue output
Temperature influence:
zero point ±0.03% FS/K; Span: ±0.03% FS/K
Temperature range:
specified range from +10°C to +40°C
Humidity:
up to 80% relative humidity
Storage temperature:
-10°C…+70°C
Housing:
bench type, in aluminum, 248 x 225 x 90 mm
Shock resistance:
1 g
Housing colour:
grey, front green anodized
Protection class:
III; protection degree: IP 30
Standadization:
EN 50081-1; EN 50081-2; EN 50082-1; EN 50082-2; EN 61010
Weight:
appr. 2 kg
PC4 Applications
Mobile and stationary pressure standard for low pressure and vacuum
Mobile and stationary of all kind of pressure reading instruments
Mobile and stationary pressure source for calibration purposes
Resource & Download
Lưu ý: Nếu một thiết bị nào đó không được liệt kê ở đây, điều đó không có nghĩa rằng chúng tôi không hỗ trợ được bạn về thiết bị đó.
Hãy liên hệ với chúng tôi
 để biết danh sách đầy đủ về thiết bị mà chúng tôi có thể hỗ trợ và cung cấp.
INO: Bán, Báo giá, tư vấn mua sắm và cung cấp, tư vấn sản phẩm thay thế; tương đương, hướng dẫn sử dụng, giá…VNĐ, …USD info@ino.com.vn | INO Sales: 028 73000184 | EiUK EUROTRON-Pressure Calibrator (Model:EiUK PC4) .