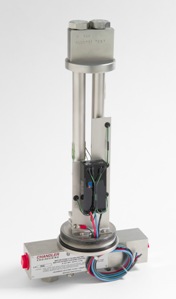 Lưu ý: Tham khảo ý kiến của nhân viên INO sẽ giúp bạn tiết kiệm được thời gian và chi phí khi cần mua sắm. ​​Với sự tư vấn của chúng tôi, bạn sẽ không gặp khó khăn khi tìm hiểu về đặc tính của sản phẩm cần mua.
One of the many parameters that must be accurately measured for product quality control, custody transfer, process control, or liquid interface detection purposes is liquid density.
For more than 25 years, the Chandler Densitometer has been used by major pipelines for reliable, rugged and accurate custody transfer, pipeline interface detection and as a blending and process control tool.
Our vibrating densitometers are rugged, accurate and designed to meet the most demanding pipeline applications and process measurment.
Benefits:
Continuoys on-line density measurement
No moving parts, accurate and reliable
Small and compact
Excellent repeatability and long-term stability
Designed for use in Class I, Division 1, Groups C and D hazardous location
CSA approved
Durable
Specifications
Accuracy:
1. +/- .0002 gr/cc max. from .3 to .5 gr/cc; +/- .0125 from 18.7 to 31 lb/ft3
2. +/- .0004 gr/cc max. from .5 to 1.0 gr/cc; +/- .025 from 31 to 62 lb/ft3
3. +/- .0005 gr/cc max. from 1.0 to 1.6 gr/cc; +/- .031 from 62 to 100 lb/ft3
Repeatability:
1. +/- .0001 gr/cc max. for .3 to 1.0 gr/cc density range; +/- .0062 from 18.7 to 62 lb/ft3
2. +/- .0002 max. for 1.0 to 1.6 gr/cc density range; +/- .0125 from 62 to 100 lb/ft3
Calibrated Density Range:
.3 – 1.0 gr/cc (300 to 1000 kg/m3)(18.7 to 62.43 lb/ft3)
Optional:
To 1.6 gr/cc (1600 kg/m3)(100 lb/ft3)
Temperature Range:
-40 to 85°C (-40 to 185°F)
Process Connections:
3/4" FNPT. Specify pipeline size for optional scoops.
Recommended Flow Rate:
Minimum 5.7 LPM (1.5 GPM)
Maximum Working Pressure:
FP27800 (Ni-Span C)
4000 PSI (276 BARS)
FP27800 (SS)
3200 PSI (220 BARS)
FP27800 (Hastelloy)
3200 PSI (220 BARS)
Power Requirements:
15 to 36 VDC (24 VDC ± 8 VDC @ 35 mA)
Output Signal:
The open collector output (referenced to power supply common) is capable of sinking up to one Amp of current (35 mA is nominal). Typical frequency range from 1 KHz – 2 KHz. Pull-up resistor is required when used with typical flow computers.
Size:
100mm round, 460mm long (4" x 18 1/8")
Manifold:
Model 278: 203mm x 50mm x 50mm (8" x 2" x 2")
Shipping Weight:
25 lb (11 kg)
Wetted Parts:
Ni-Span C Tubes; 304 stainless steel manifold; Viton O-rings.
Standard Cover:
NEMA 4, alodine-coated and powder-coated aluminum.
Resource & Download
Lưu ý: Nếu một thiết bị nào đó không được liệt kê ở đây, điều đó không có nghĩa rằng chúng tôi không hỗ trợ được bạn về thiết bị đó.
Hãy liên hệ với chúng tôi
 để biết danh sách đầy đủ về thiết bị mà chúng tôi có thể hỗ trợ và cung cấp.
INO: Bán, Báo giá, tư vấn mua sắm và cung cấp, tư vấn sản phẩm thay thế; tương đương, hướng dẫn sử dụng, giá…VNĐ, …USD info@ino.com.vn | INO Sales: 028 73000184 | Chandler Engineering-Densitometer (Model:UGC).