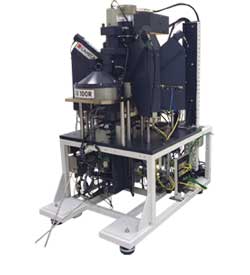 Lưu ý: Tham khảo ý kiến của nhân viên INO sẽ giúp bạn tiết kiệm được thời gian và chi phí khi cần mua sắm. ​​Với sự tư vấn của chúng tôi, bạn sẽ không gặp khó khăn khi tìm hiểu về đặc tính của sản phẩm cần mua.
Shielded Electron Probe MicroAnalyzer for Radioactive Samples
The Shielded SX has been specifically developed to handle and analyze radioactive samples (eg nuclear fuels) emitting gamma radiations up to 3 Curies at 0.75MeV. Based on the SX Five architecture, it is further equipped with shielded WDS spectrometers and a shielded sample stage in order to ensure safe sample manipulation and to preserve analytical performance.
Fully customized environment and analytical equipment
The instrument (column, spectrometers and sample stage) are installed in a "hot" cell (lead or concrete shielded room).

The instrument is fully remote-controlled (stage, column, diaphragms…) with electronics and computer deported outside the "hot" cell environment.

Remote-manipulators and/or ball manipulators are used to insert and mount the radioactive samples. In the ITU Karlsruhe-Germany configuration, for example, the analysis chamber is vented and the stage is moved to a position directly accessible with ball-manipulators at each sample exchange. In the LECA/STAR CEA Cadarache-France design, samples are introduced via an airlock system located in a glove box for alpha confinement.

All WDS analyzers and detectors are shielded to prevent the background caused by the gamma radiations.

The stage is made of Denal material.

The Secondary Elecron detector has a special orientation to avoid gamma ray perturbation.

The PC automation system controls all the parameters of the Shielded SX microprobe and offers all necessary features for quantitative analysis, X ray mapping (see right side Cs X ray map), line profile acquisition and data processing.

Our mechanical engineering department has the expertise to develop customized solutions for sample transfer and manipulation in order to fulfill the specific needs of each nuclear research laboratory.
With over a dozen instruments in operation worldwide, CAMECA is the absolute leader in shielded EPMA instruments. Our Shielded SX is recognized as the ultimate analytical solution for the characterization of irradiated nuclear fuels and the investigation of fission product behavior.
Lưu ý: Nếu một thiết bị nào đó không được liệt kê ở đây, điều đó không có nghĩa rằng chúng tôi không hỗ trợ được bạn về thiết bị đó.
Hãy liên hệ với chúng tôi
 để biết danh sách đầy đủ về thiết bị mà chúng tôi có thể hỗ trợ và cung cấp.
INO: Bán, Báo giá, tư vấn mua sắm và cung cấp, tư vấn sản phẩm thay thế; tương đương, hướng dẫn sử dụng, giá…VNĐ, …USD info@ino.com.vn | INO Sales: 028 73000184 | Cameca-EPMA (Model:Shielded SX).