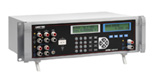 Lưu ý: Tham khảo ý kiến của nhân viên INO sẽ giúp bạn tiết kiệm được thời gian và chi phí khi cần mua sắm. ​​Với sự tư vấn của chúng tôi, bạn sẽ không gặp khó khăn khi tìm hiểu về đặc tính của sản phẩm cần mua.
The AMC910 calibrator offers laboratory grade accuracy, high performance and simple-to-use functionalities. With the optional external pressure modules, the system may be taylored to address all possible calibration needs.
Signal calibration capabilities of the JOFRA AMC910 include, current, voltage and resistance. In temperature mode, the unit can read and source any of 11 types of thermocouples and 9 RTD types as well as YSI-400 and Ohms for non-standard curves. In pressure mode, the instrument operates with all JOFRA APM modules and covers pressure ranges from vacuum to 700 bar / 10,000 psi, selectable through more than 60 different pressure modules, representing vacuum, absolute, gauge and compound pressure types as well as all relevant pressure units with up to 0,01% Full Scale accuracy.
Isolated Measurement Channel
The JOFRA AMC910 features a fully isolated measurement channel which allows the user to calibrate process transmitters and signal isolators. In reality it's like having two instruments in one! This channel also incorporates a 24 volt loop power supply to power 2-wire transmitters and a HART interface resistor enabling direct connection to HART communicators.
Key features are:
Two voltage ranges 10V and 100V DC
Milliamp range 0 to 50mA
Milliamp range with simultaneous 24 volt power (0 to 24ma)
Selectable 250 ohm HART resistor
Accuracy of 0.005% of reading on all ranges
Resource & Download
Lưu ý: Nếu một thiết bị nào đó không được liệt kê ở đây, điều đó không có nghĩa rằng chúng tôi không hỗ trợ được bạn về thiết bị đó.
Hãy liên hệ với chúng tôi
 để biết danh sách đầy đủ về thiết bị mà chúng tôi có thể hỗ trợ và cung cấp.
INO: Bán, Báo giá, tư vấn mua sắm và cung cấp, tư vấn sản phẩm thay thế; tương đương, hướng dẫn sử dụng, giá…VNĐ, …USD info@ino.com.vn | INO Sales: 028 73000184 | Ametek Calibration Instruments- Advanced Multi-purpose Calibrator( Model:AMC910).