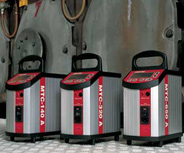 Lưu ý: Tham khảo ý kiến của nhân viên INO sẽ giúp bạn tiết kiệm được thời gian và chi phí khi cần mua sắm. ​​Với sự tư vấn của chúng tôi, bạn sẽ không gặp khó khăn khi tìm hiểu về đặc tính của sản phẩm cần mua.
Fast and convenient marine temperature calibrators
MTC – Marine Temperature Calibrator
The MTC series of portable temperature calibrators from JF INSTRUMENTS makes it very easy to maintain correct readings for all your temperature monitoring devices. The dry-block design does not use any hazardous hot liquid, has a larger temperature range and heats up and cools down much faster than a traditional liquid bath. The MTC dry-block calibrators has been designed for much easier true temperature calibration in the field, leading to reliable results. The simple operation and the automatic functions have been carefully selected for ease of use. This has resulted in a fast, simple and efficient temperature calibrator without compromising quality. Reach 320°C (608°F) in just 4 minutes.
The MTC series features a large backlit display showing a lot of useful information at the same time: The set value and the true temperature, the status on the thermo switch test input, a count- down time before the temperature is stable and a big check mark when it is stable. To save time use the automatic switch test. The MTC series will find the open and close temperatures on a thermo switch and calculate the dead band. The MTC series also features an auto-step function. Using this function you may stay in the control room and monitor the temperature reading while the calibrator automatically steps through a number of pre-programmed temperatures located next to the sensor.
Models and temperature ranges
MTC-140 A: -17 to 140°C (-1 to 284°F)
MTC-320 A: 50 to 320°C (122 to 608°F)
MTC-650 A: 50 to 650°C (122 to 1202°F)
Features for MTC
Interchangeable inserts
Multi-hole insertion tubes
MVI Mains Variance Immunity
Automatic switch test
Multi information display
Safty banana bushings
Auto stepping
Stability indicator
Count down timer (shows when unit is stable)
Programmable maximum temperature
Fast simulation/training mode
Re-calibration from keyboard
RS232 and JOFRACAL calibration software

Selection guide MTC Series

MTC-140 A

MTC-320 A

MTC-650 A

Temperature range @ ambient 23°C / 73°F

-17 to 140

°C (-1 to 284°F)

33 to 320°C

(91 to 608°F)

33 to 650°C

(91 to 1202°F)

Heating time
15 min.
4 min.
10 min.
Immersion depth
110 mm
115 mm
115 mm
Accuracy
±0.5°C
±0.5°C
±0.9°C
Stability
±0.05°C
±0.1°C
±0.1°C
Resolution
0.1°C
0.1°C
0.1°C
Read-out
°C and °F
°C and °F
°C and °F
Resource & Download
Lưu ý: Nếu một thiết bị nào đó không được liệt kê ở đây, điều đó không có nghĩa rằng chúng tôi không hỗ trợ được bạn về thiết bị đó.
Hãy liên hệ với chúng tôi
 để biết danh sách đầy đủ về thiết bị mà chúng tôi có thể hỗ trợ và cung cấp.
INO: Bán, Báo giá, tư vấn mua sắm và cung cấp, tư vấn sản phẩm thay thế; tương đương, hướng dẫn sử dụng, giá…VNĐ, …USD info@ino.com.vn | INO Sales: 028 73000184 | Ametek Calibration Instruments-Marine Temperature Calibrator ( Model:MTC Series).