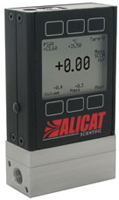 Lưu ý: Tham khảo ý kiến của nhân viên INO sẽ giúp bạn tiết kiệm được thời gian và chi phí khi cần mua sắm. ​​Với sự tư vấn của chúng tôi, bạn sẽ không gặp khó khăn khi tìm hiểu về đặc tính của sản phẩm cần mua.
The Alicat Scientific M Series mass flow meters are an accurate, versatile, dependable and cost effective solution to measuring gas flow. Unlike traditional mass flow meters, Alicat Scientific mass flow meters utilize laminar flow and differential pressure technology which results in an extremely fast, accurate meter with no warm-up time and unparalleled versatility.
The Alicat Scientific's M Series mass flow meter was designed to meet and exceed the requirements that customers place on mass flow meters. Flow ranges are available from 0.5 standard cubic centimeters per minute to 2000 standard liters per minute with a 100:1 turndown ratio. Basic accuracy is ±0.8% of reading ±0.2% of full scale. Calibrated and ready for use with 20 gases and 10 gas blends, The M series has a remarkably fast start-up time and a response time of just 10 milliseconds.
The Alicat Scientifics M Series mass flow meter is an extremely versatile instrument. In addition to mass flow measurements, the M Series also measures pressure, temperature and volumetric flow which means fewer instruments to buy and install. The M series meter can also be equipped with an Alicat 9V battery pack to make a stand alone secondary calibration standard or flow verification meter. Alicat's patented technology allows its mass flow meters to have very few moving parts. All of the internal components are fixed in place resulting in very little physical change inside the mass flow meter. Little physical change in the flow cavity means higher rates of consistency and repeatability.
Alicat Scientific M Series mass flow meters were designed to be used as a stand-alone device. All measured parameters are displayed in real time on the digital display. Any measured parameter can be brought to the center of the screen. The push button interface allows easy configuration of the meter without the need for computers, complicated software or scripts. The M Series features Gas Select which allows users to select from 30 gases and gas blends via the display or through the RS-232 interface. Remote displays are also available. M Series mass flow meters are equipped with multiple analog outputs in addition to the RS-232 digital output.
Feature
Alicat Scientific M Series Mass Flow Meters
Max Flow Range
0.5 SCCM to 2000 SLPM
Accuracy
±0.8% of reading ±0.2% of full scale
Repeatability
±0.2% of FS
Response time
Less than 10 ms
Compatible corrosive/aggressive gases

Nitric oxide to 100%
Nitrogen triflouride to 100%
Ammonia to 100%
Chlorine to 100%
Hydrogen sulfide to 100%
Sulfur dioxide to 100%
Propylene to 100%
Nitrogen dioxide to 0.5% in an inert carrier
Refrigerant gases to 100%

Communication

RS-232 output of all measured parameters
RS-485 available
PROFIBUS compatible comm. standard
DeviceNET compatible comm. standard
Analog output choice of main parameter:0-5 VDC, 1-5 VDC, 0-10 VDC, 4-20 mA
Local display
Resource & Download
Lưu ý: Nếu một thiết bị nào đó không được liệt kê ở đây, điều đó không có nghĩa rằng chúng tôi không hỗ trợ được bạn về thiết bị đó.
Hãy liên hệ với chúng tôi
 để biết danh sách đầy đủ về thiết bị mà chúng tôi có thể hỗ trợ và cung cấp.
INO: Bán, Báo giá, tư vấn mua sắm và cung cấp, tư vấn sản phẩm thay thế; tương đương, hướng dẫn sử dụng, giá…VNĐ, …USD info@ino.com.vn | INO Sales: 0869421303 | INO Admin: 028 73000184 | Alicat-Mass Flow Meters (Model M Series).