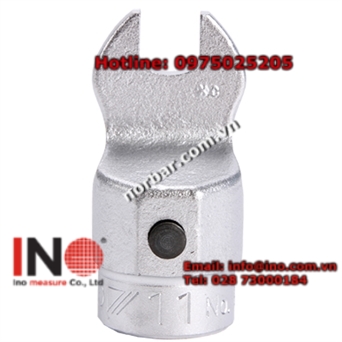 INO Measure Co., Ltd có khả năng tư vấn mua sắm, sử dụng, lắp đặt và cung cấp các thiết bị: Norbar  Open Ends – 16mm Spigot  10mm Open End, 16mm spigot. Nếu bạn có nhu cầu mua sắm hoặc cần sự hỗ trợ về kỹ thuật cho một thiết bị không được liệt kê ở đây, xin vui lòng liên hệ với chúng
tôi;
Lưu ý: Tham khảo ý kiến của nhân viên INO sẽ giúp bạn tiết kiệm được thời gian và chi phí khi cần mua sắm. ​​Với sự tư vấn của chúng tôi, bạn sẽ không gặp khó khăn khi tìm hiểu về đặc tính của sản phẩm cần mua.
Spanner end fittings are designed to suit Norbar 16mm diameter spigot ended torque handles.
Part number
: 29845
EAN Bar Code
: –
NATO number
: 5120-99-021-4783
Accuracy
: –
Operates between
:
0,0 – 32,0 N·m

Forged alloy steel.
Ends easily interchangeable.
Torque Handle calibrated to give correct torque at nut/bolt.
Available in: Open Ends, Ring Ends, Flare Ends, Reversible 3/8″ and 1/2″ ratchets, Push through 3/8″ and 1/2″ ratchets and Fixed 3/8″ and 1/2″ square.
Open, Ring and Flare Ends available in Metric and Imperial sizes.
Blank end adaptors are available for applications where customised spanners are required.
► Các câu hỏi, thắc mắc, thông tin liên quan đến sản phẩm từ khâu mua sắm, lựa chọn, sử dụng, cài đặt hay thay thế, vui lòng liên hệ với INO team để được hỗ trợ và tư vấn kịp thời.
► Công ty Giải pháp và Công nghệ Đo lường INO, nhà cung cấp các thiết bị đo lường và tự động hóa công nghiệp
►
Web: www.ino.com.vn | Mail: info@ino.com.vn
►
INO Sales: 028 73000184 | Hotline: 0947200184
►
Website: http://www.ino.com.vn