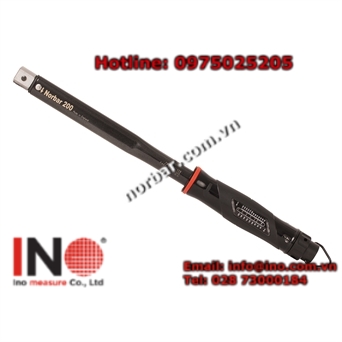 INO Measure Co., Ltd có khả năng tư vấn mua sắm, sử dụng, lắp đặt và cung cấp các thiết bị:Norbar  NorTorque Female Torque Handle (Dual Scale)  Model 100 Female Torque Handle 9×12 (Dual Scale). Nếu bạn có nhu cầu mua sắm hoặc cần sự hỗ trợ về kỹ thuật cho một thiết bị không được liệt kê ở đây, xin vui lòng liên hệ với chúng
tôi;
Lưu ý: Tham khảo ý kiến của nhân viên INO sẽ giúp bạn tiết kiệm được thời gian và chi phí khi cần mua sắm. ​​Với sự tư vấn của chúng tôi, bạn sẽ không gặp khó khăn khi tìm hiểu về đặc tính của sản phẩm cần mua.
NorTorque® utilises Norbar's proven mechanism and internal components and built them into a purposeful and attractive torque wrench.
In developing NorTorque®, Norbar's objective was to deliver outstanding quality and performance in a value for money package. Fine engineering ensures that the wrench adjustment is both fast and fingertip light meaning that you can do your job more efficiently.
Accurate to ±3% of reading which meets and exceeds ISO6789 with models available to cover 12 N·m to 340 N·m.
Part number
: 130125
EAN Bar Code
: –
NATO number
: –
Accuracy
: ±3%
Operates between
:
40,0 – 200,0 N·m

30,0 – 150,0 lbf·ft

Length: 438mm
Weight: 0.79kg
Packed Weight: 1.19kg
Each tool is supplied with a traceable calibration certificate
Convenient hanger feature for tool storage also aids wrench unlocking and adjustment
Just eight turns to cover the entire scale
Micrometer scale applying to the primary torque units (N·m on a dual scale wrench) for simple and error free setting
Accurate to ±3% of reading which meets and exceeds ISO6789
Push/pull lock is fast and intuitive to use and prevents accidental adjustment of the set torque
Light and fast adjustment saves operator time and effort
► Các câu hỏi, thắc mắc, thông tin liên quan đến sản phẩm từ khâu mua sắm, lựa chọn, sử dụng, cài đặt hay thay thế, vui lòng liên hệ với INO team để được hỗ trợ và tư vấn kịp thời.
► Công ty Giải pháp và Công nghệ Đo lường INO, nhà cung cấp các thiết bị đo lường và tự động hóa công nghiệp
►
Web: www.ino.com.vn | Mail: info@ino.com.vn
►
INO Sales: 0869421303 | INO Admin: 028 73000184 | Hotline: 0947200184
►
Website: http://www.ino.com.vn