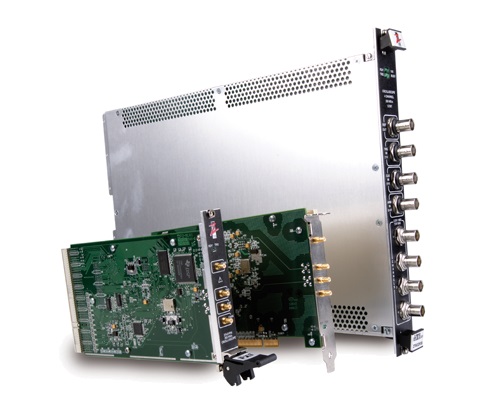 Lưu ý: Tham khảo ý kiến của nhân viên INO sẽ giúp bạn tiết kiệm được thời gian và chi phí khi cần mua sắm. ​​Với sự tư vấn của chúng tôi, bạn sẽ không gặp khó khăn khi tìm hiểu về đặc tính của sản phẩm cần mua.
ZT430 Series
High-speed acquisition

Real-time sampling up to 200 MS/s interleaved or 100 MS/s non-interleaved
Equivalent sampling up to 20 GS/s

On-board memory up to 4 MS record length
Programmable signal conditioning including range, offset, impedance, coupling, and attenuation
Embedded signal processing for vertical, horizontal and frequency-domain measurements
Two calculation channels for waveform math, digital filtering, FFTs, and more
Four non-volatile reference channels for storing and comparing waveforms
Save and recall configuration data from non-volatile memory
Multiple acquisition modes such as averaging and envelope
Advanced triggering modes such as video and pulse width
Timing and triggering capabilities allowing multiple board synchronization
ZScope C-Class interactive software and drivers for C/C++ and LabVIEW
Product
Maximum
Sample Rate
Analog
Bandwidth
Maximum Record
Length
Resolution
Voltage
Ranges
ZT430
200 MS/s
90 MHz
4M samples
12 bit
100 mVpp to
50 Vpp

Resource & Download
Lưu ý: Nếu một thiết bị nào đó không được liệt kê ở đây, điều đó không có nghĩa rằng chúng tôi không hỗ trợ được bạn về thiết bị đó.
Hãy liên hệ với chúng tôi
 để biết danh sách đầy đủ về thiết bị mà chúng tôi có thể hỗ trợ và cung cấp.
INO: Bán, Báo giá, tư vấn mua sắm và cung cấp, tư vấn sản phẩm thay thế; tương đương, hướng dẫn sử dụng, giá…VNĐ, …USD info@ino.com.vn | INO Sales: 028 73000184 | ZTEC Instruments-Oscilloscopes (Model:ZT430 Series).