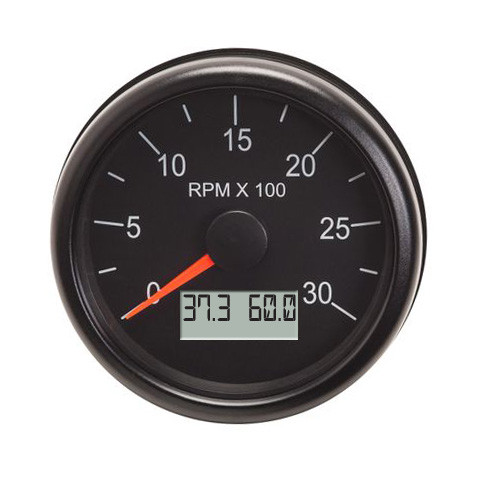 Lưu ý: Tham khảo ý kiến của nhân viên INO sẽ giúp bạn tiết kiệm được thời gian và chi phí khi cần mua sắm. ​​Với sự tư vấn của chúng tôi, bạn sẽ không gặp khó khăn khi tìm hiểu về đặc tính của sản phẩm cần mua.
AMETEK VIS' C-COM 3AD CAN-Communicator is a highly versatile stand alone gauge that can satisfy the instrumentation requirements for all vehicle platforms.
The C-COM 3AD is a direct J1939 CAN gauge designed to also accept a pulsed speed input or a NMEA-0183 GPS receiver on the USB input. The backlit, 13 segment, 7-digit alphanumeric LCD displays vehicle information, such as odometer, hourmeter, coolant temperature and vehicle speed.
With the optional external buttons, the menu system expands to also include additional vehicle data, two resettable trip mileage and hours, diagnostic fault codes and warning messages. As a GPS speedometer, the C-COM 3AD can provide road speed for vehicles without wheel or drive train sensors.
Two optional dead-fronted LED telltale indicators can be customized per application. The LEDs can be controlled by switched inputs or J1939 data bus.
The gauge is sealed to IP67 specifications both front and rear. The gauge operates from 9 to 32 volts DC and includes multi-option inputs that can be used for resistive, analog, pulsed speed or USB inputs.
Designed to withstand harsh conditions typical of off-road environments, the 2-inch display gauge meets all SAE J1455 and J1113 requirements for vehicular instrumentation.
Features

Direct J1939 CAN communication
Multi-function alphanumeric display
Sealed to IP67 specifications front and rear
Two optional LED telltale indicators
Configurable inputs
Gauge mounting – Screw-on clamp
9 to 32-volt operation
Optional external control buttons
Applications

Heavy trucks
Buses, coaches, and recreational vehicles
Forklifts, wheel loaders, and skid steers
Cranes, road-building, and construction equipment
Earth-moving, and mining vehicles
Utility and emergency vehicles
Farm and agricultural vehicles
Stationary engine instrumentation
Resource & Download
Lưu ý: Nếu một thiết bị nào đó không được liệt kê ở đây, điều đó không có nghĩa rằng chúng tôi không hỗ trợ được bạn về thiết bị đó.
Hãy liên hệ với chúng tôi
 để biết danh sách đầy đủ về thiết bị mà chúng tôi có thể hỗ trợ và cung cấp.
INO: Bán, Báo giá, tư vấn mua sắm và cung cấp, tư vấn sản phẩm thay thế; tương đương, hướng dẫn sử dụng, giá…VNĐ, …USD info@ino.com.vn | INO Sales: 028 73000184 | Vehicular Instrumentation Systems-CAN Communicator (Model:3AD).