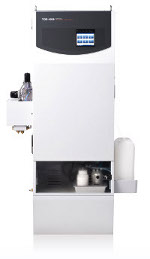 Lưu ý: Tham khảo ý kiến của nhân viên INO sẽ giúp bạn tiết kiệm được thời gian và chi phí khi cần mua sắm. ​​Với sự tư vấn của chúng tôi, bạn sẽ không gặp khó khăn khi tìm hiểu về đặc tính của sản phẩm cần mua.
Highly advanced on-line TOC Analyzer excels in a wide range of applications
The TOC-4200 is a high-performance on-line TOC analyzer, based on the proven 680°C Catalyst-aided Combustion technology. This established technology is featured in a large installed base of Shimadzu Total Organic Carbon Analyzers throughout the world, and has been applied to a broad field of industries.
Features
Support for New Means of Communications, Enhanced Data Handling

Support for a Wide Range of Samples

Low Maintenance, Low Running Costs

Advanced Operability

Diverse Applications
Diverse Applications
Supports monitoring TOC removal rate based on EPA Regulations
Calculates TOC removal rate based on the United States EPA regulations
(Part IV 40 CFR Part 9, 141 and 142, 1998)
(when a 2- or more-stream switching option is provided)
Total pollutant load control regulation applications (organic pollution load)
Converting the measured TOC values allows applications to COD total volume control. (*1) TOC → COD conversion functions are installed as standard.
Reading flow rate signals from a flow meter (*2) permits COD load conversion calculations.
Wastewater treatment plant influent (upstream monitoring) and effluent
Measurements at a short measuring cycle (4 minutes minimum) rapidly capture dramatic changes in organic matter or abnormal effluent.
The powerful oxidation capacity of a combustion-type analyzer can detect organic matter that cannot be captured using a UV meter.
The short measuring cycle and powerful oxidation, combined with switching between up to six flow lines, offer detailed monitoring of treatment plants.
Monitoring of river water sampled at water purification plants and treated water (tap water)
Monitoring changes in river water quality due to rainfall and other factors to provide control indicators for treatment processes.
Permits simultaneous monitoring of treated tap water.
Plant water (washing water, cooling water, recovered water, boiler water, condensate, etc.)
Continuous monitoring of water used in a plant.

Continuous monitoring of pure boiler water assists in the detection of anomalies, such as damaged pipes.

The short measuring cycle (4 minutes minimum) of the combustion-type TOC analyzer achieves more rapid detection of anomalies.
*1 The TOC-COD conversion formula must be determined separately.
*2 With attached option
Features
Support for New Means of Communications, Enhanced Data Handling
Compatible with digital bus standard
Instrument operation, readout of measured values, and checking for alarms can be performed via the RS-485 or RS-232C (option). This function is convenient when managing multiple instruments.
Control sample measurements
Periodic measurements of pre-selected control samples. This can be used to monitor the condition of the instrument. Automatic calibration can be performed when a certain reference value is exceeded.
Web-based monitoring (option)
Alarm Display
Installing an optional board allows connection of the instrument to a network. The optional board offers web-server functions, allowing real-time browsing of measured values and alarms with a Web browser.
Support for a Wide Range of Samples
From pure water to heavily polluted water
Measurement ranges from 5 mgC/L full-scale to 20,000 mgC/L full-scale.
An option can be attached to support high-sensitivity measurements to 1 mgC/L full-scale.

The pretreatment unit for heavily polluted water incorporates a unique washing function and special operation sequences to control blockages and biological contamination. This reduces the maintenance frequency.
Automatic dilution function
TOC-4200 offers sample automatic dilution functions (×2 to ×50) as standard.
When measuring an acid, strong alkaline, or inorganic salt sample that may damage the instrument or consumables, the effect can be alleviated by diluting the sample.
A single high standard can be auto-diluted to make a multi-point calibration curve for laboratory time saving effort.
High-salt sample combustion tube kit
When measuring samples with high levels of inorganic salt, such as seawater, the inorganic salt can accumulate inside the combustion tube and cause physical blockage or deterioration of the combustion tube. This kit extends the tube-replacement period approximately ten times as compared to a normal combustion tube.
Permits TOC measurements that match the sample's characteristics
TOC measurement by acidify and sparge TOC also know as non-purgeable organic carbon (NPOC)

TOC determination by difference between total carbon (TC) and inorganic carbon (IC)
TOC = TC – IC (requires option)

TOC determination by addition method of NPOC and purgeable organic carbon (POC)
TOC = NPOC + POC (requires option)
Range of pretreatment units to match a sample's characteristics
Pretreatment units are available for applications from pure water to heavily polluted water.
Reduces instrument maintenance frequency.
Switch between measurement points in up to six flow lines. More economical since the need for multiple instruments is eliminated
Reliable sample injection system
Sample injection system
A single unit performs sample intake, discharge, dilution and injection.
Automated sample acidification and sparging.
Highly reliable ceramic 8-port valve used to switch flow lines
Low Maintenance, Low Running Costs
Carrier gas purification function as standard
A carrier gas purification function is installed as standard for 24-hour continuous operation by the analyzer. Purifying instrument air or compressor air in a facility to produce carrier gas significantly reduces running costs.
N2 carrier set
Compressed air is normally used as the carrier gas source but high-purity nitrogen gas can be used as the carrier gas as well. Convenient when a nitrogen gas centralized pipe is available in a facility (optional).
Water pump control functions
Pumps sample only when necessary to save pumping energy and reduce maintenance.
Accommodates low flow rates and restricted sampling timing.
Notification of replacement periods
When the time to replace a consumable approaches, a pop-up window notifies the operator and gives instructions.
Combining the contact outputs and other warning outputs simplifies consumables management.
Advanced Operability
Color LCD touch screen
Color LCD touch screen
Easy-to-view color LCD
Easy touch screen operation
Large buttons
Calendar
Calendar
The calendar simplifies scheduling for automatic calibration, instrument sleep function, control sample measurement, and catalyst regeneration (up to 14 weeks). Batch inputs can be made by specifying a day of the week.
Interrupt measurements
Off-line sample measurements can be performed in the standby time periods, even during on-line operation.
Generous data storage capacity
USB port
The instrument internal memory can store 20,000 measured values (equivalent to one year's data at a 30-minute measuring cycle), 100 calibration values (equivalent to weekly automatic calibration over one year), and history of 100 alarms.
Six calibration curves can be saved for each measurement type (TC, NPOC, IC*, POC*, and TN*) to simplify switching between operation conditions.

USB port fitted as standard below the touch screen. Measured values and measurement conditions can be saved to USB memory. Measured results are saved as CSV files to simplify the management and processing of large quantities of data.
*Optional
Lưu ý: Nếu một thiết bị nào đó không được liệt kê ở đây, điều đó không có nghĩa rằng chúng tôi không hỗ trợ được bạn về thiết bị đó.
Hãy liên hệ với chúng tôi
 để biết danh sách đầy đủ về thiết bị mà chúng tôi có thể hỗ trợ và cung cấp.
INO: Bán, Báo giá, tư vấn mua sắm và cung cấp, tư vấn sản phẩm thay thế; tương đương, hướng dẫn sử dụng, giá…VNĐ, …USD info@ino.com.vn | INO Sales: 028 73000184 | Shimadzu-TOC (Model:4200).