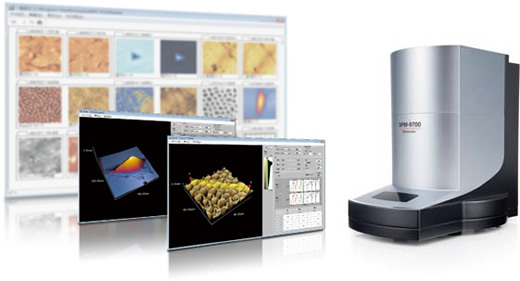 Lưu ý: Tham khảo ý kiến của nhân viên INO sẽ giúp bạn tiết kiệm được thời gian và chi phí khi cần mua sắm. ​​Với sự tư vấn của chúng tôi, bạn sẽ không gặp khó khăn khi tìm hiểu về đặc tính của sản phẩm cần mua.
Scanning probe microscope (SPM) is a generic term for microscopes that scan sample surfaces with an extremely sharp probe to observe their three-dimensional image or local properties at high magnifications. The SPM-9700 offers higher performance, faster speeds, and easier operation.
High Stability & High Throughput.
With the optical lever system and cantilever integrated in the head, samples can be replaced by simply sliding the head. Since samples can be changed without shutting off the laser beam, laser irradiation characteristics remain highly stable even after changing the sample. This eliminates the need to readjust the optical axis or other parameters associated with stopping the laser, which means analysis times can be shortened.
High Stability
Allows sliding the entire optical lever system as a single unit, while maintaining high rigidity.
High Throughput
Successfully opened up the area around the sample while maintaining high rigidity.
High Stability
The laser remains stable and irradiating the cantilever even while replacing samples.

Design is resistant to vibration, noise, wind, and other external disturbances, so a specialized enclosure is not necessary.

The main unit includes a built-in vibration isolator.
Secret to High Stability of the SPM-9700
Remarkable Mechanism Maintains High Performance
–Comparison of Stability for Different Laser Irradiation–.
Lưu ý: Nếu một thiết bị nào đó không được liệt kê ở đây, điều đó không có nghĩa rằng chúng tôi không hỗ trợ được bạn về thiết bị đó.
Hãy liên hệ với chúng tôi
 để biết danh sách đầy đủ về thiết bị mà chúng tôi có thể hỗ trợ và cung cấp.
INO: Bán, Báo giá, tư vấn mua sắm và cung cấp, tư vấn sản phẩm thay thế; tương đương, hướng dẫn sử dụng, giá…VNĐ, …USD info@ino.com.vn | INO Sales: 028 73000184 | Shimadzu-Scanning Probe Microscope(SPM) (Model:SPM-9700 ).