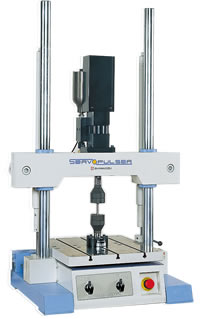 Lưu ý: Tham khảo ý kiến của nhân viên INO sẽ giúp bạn tiết kiệm được thời gian và chi phí khi cần mua sắm. ​​Với sự tư vấn của chúng tôi, bạn sẽ không gặp khó khăn khi tìm hiểu về đặc tính của sản phẩm cần mua.
SERVOPULSER EHF-L Series:
Compact material testing machine of high performance, specifically developed for the R&D of new materials.
The research and development of new materials is one of the most important factors for the development of high technologies. It is especially important to examine the mechanical behaviors of a new material under actual environmental conditions.
The newly-developed Shimadzu SERVOPULSER EHF-L Series is a group of compact electro-hydraulic fatigue testing machines that are suitable for the tests of papers, fibers, plastics, complex materials, and many other new materials. They permit measurement of micro-level displacements caused by gram-level loads.
They are capable of measuring the strength of materials under static or dynamic loads(fatigue tests) in actual environment.
Lưu ý: Nếu một thiết bị nào đó không được liệt kê ở đây, điều đó không có nghĩa rằng chúng tôi không hỗ trợ được bạn về thiết bị đó.
Hãy liên hệ với chúng tôi
 để biết danh sách đầy đủ về thiết bị mà chúng tôi có thể hỗ trợ và cung cấp.
INO: Bán, Báo giá, tư vấn mua sắm và cung cấp, tư vấn sản phẩm thay thế; tương đương, hướng dẫn sử dụng, giá…VNĐ, …USD info@ino.com.vn | INO Sales: 028 73000184 | Shimadzu-EHF (Model:L Series).