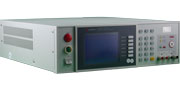 Lưu ý: Tham khảo ý kiến của nhân viên INO sẽ giúp bạn tiết kiệm được thời gian và chi phí khi cần mua sắm. ​​Với sự tư vấn của chúng tôi, bạn sẽ không gặp khó khăn khi tìm hiểu về đặc tính của sản phẩm cần mua.
The Guardian 6100 Plus is able to perform several dielectric tests in one unit including AC/DC Hipot, Insulation Resistance,Ground Bond, Open/Short Check and optional Leakage Current for compliance testing of IEC, UL, TUV, CSA, EN and other standards including IEC60601-1, UL2601-1, IEC950, UL544, UL60950. The time-saving TwinPort™ feature performs Hipot and Ground Bond simultaneously cutting time for these tests in half. The open / short check function (OSC) checks for an open connection or a DUT short during testing. Open connections may cause a bad DUT to test OK. Screening for shorts prevents damage to the equipment saving potential costs that may occur. These patented features are only available in safety products manufactured by Chroma.
The Guardian 6100 Plus Safety Analyzer's leakage current scanners (A190308) can provide up to 20A input current capability for functional run testing as well as earth, enclosure, patient and line leakage current tests meeting IEC60601-1 compliance requirements.
Plugs into the Guardian 6100 Plus for Hipot, Line Leakage Auto Scanning
Five Different Kinds Human Body RC Network
Four measurements mode : Normal, Reverse, Single Fault Normal, Single Fault Reverse
Up to 20A Line Input Current Capability
Build in A/D and Calibration Data Memory Easy to Install
Multiple Display Mode Voltage-LC, Amp-LC, VA-LC
Earth LC, Enclosure LC, Patient LC and Patient Auxiliary LC Test
Applications
Production and Compliance Testing of Medical Devices in Accordance with IEC, UL, CSA, EN and Other Standards such as IEC60601-1, UL2601-1, IEC950, UL544 and UL60950
ITE / consumer electronic safety testing
Transformer safety testing
Generator/motor safety testing
Component safety testing
Non-electronic safety testing
Appliance electrical safety testing
Medical equipment safety testing
Specifications
Guardian 6100 Plus
Mode
AC / DC / IR / GB / LC
Withstanding Voltage Test
Output Voltage
DC:0.05 ~ 6kV , AC : 0.05 ~ 5kV
Load Regulation
±(1% of reading +0.1% of range)
Voltage Regulation
2V
Voltage Accuracy
±(1% of reading +0.1% of range)
Cutoff Current
DC : 20mA , AC : 40mA
Current Resolution
0.1 μA DC
Current Accuracy
±(1% of reading +0.1% of range)
Output Frequency
50Hz / 60Hz
Test Time
0.3 ~ 999 sec , continue
Ramp Time
0.1 ~ 99.9 sec, Off
Fall Time
0.1 ~ 99.9 sec, Off
Waveform
Sine wave
Insulation Resistance Test
Output Voltage
DC : 0.05 ~ 1kV
Voltage Resolution
2V
Voltage Accuracy
±(2% of reading +0.5% of range)
IR Range
1MΩ ~ 50GΩ
Resistance Resolution
0.1MΩ
Resistance Accuracy
5% typical
Ground Bond Test
Output Current
AC : 1 ~ 30A (40A, 60A optional)
Current Accuracy
±(1% of reading +0.2% of range)
GR Range
10mΩ ~ 510mΩ
Resistance Resolution
0.1mΩ
Resistance Accuracy
± (1% of reading + 0.1% of full scale)
Test Method
4 wires
Flashover Detection
Setting Mode
Programmable setting
Detection Current
AC : 20mA, DC : 10mA
Secure Protection Function
Panel Operation Lock
Present password
Interlock
YES
GO/NG Judgment Window
Indication,Alarm
GO: Short sound,Green LED; NG: Long sound, Red LED
Data Hold
Least tests data memories
Memory Storage
50 setups with up to 100 groups recall
Interface
9pin D-sub I/O control / RS232 / GPIB (Optional)
General
Operation Environment
Temperature : 0°C ~ 40°C, Humidity : ± 80 % RH
Power Consumption
No load : < 100 W With rated load : 800 W
Power Requirements
90~132Vac or 198~264Vac, 47~66Hz
Weight
Approx. 20KG(19032) 25KG (19032-P)
Ordering information
Guardian 6100 Plus: Electrical Safety Analyzer
A190301: 8HV Scanning Box
A190302: 5HV/3GC Scanner
A190303: 3HV/5GC Scanner
A190304: 8HV Scanner
A190305: Line Leakage Current Scanner
A190306: Hipot/Line Leakage/Probe Scanner (10A)
A190307: L-N Scanner & Leakage Current Scanner
A190308: Hipot/Line Leakage/Probe Scanner (20A)
A190313: 500VA Isolation Transformer
A190314: 1000VA Isolation Transformer

A190316: Dummy Load
A190317: Bar Code Scanner
A190321: GPIB Interface
A190334: Ground Bond 40A
A190337: Ground Bond 60A
A190338: 19001 EST Software
A190309: EMI FILTER Scanner
A190342: EMI FILTER Test Box
A190343: 19" Rack Mount Kit for Model 19032
A190344: HV Gun
A190349: Universal Corded Product Adapter
A190708: ARC Verification Fixture
Resource & Download
Lưu ý: Nếu một thiết bị nào đó không được liệt kê ở đây, điều đó không có nghĩa rằng chúng tôi không hỗ trợ được bạn về thiết bị đó.
Hãy liên hệ với chúng tôi
 để biết danh sách đầy đủ về thiết bị mà chúng tôi có thể hỗ trợ và cung cấp.
INO: Bán, Báo giá, tư vấn mua sắm và cung cấp, tư vấn sản phẩm thay thế; tương đương, hướng dẫn sử dụng, giá…VNĐ, …USD info@ino.com.vn | INO Sales: 028 73000184 | QuadTech Inc-Plus Medical Electrical Safety Analyzer (Model:Guardian 6100).