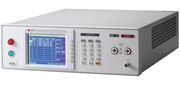 Lưu ý: Tham khảo ý kiến của nhân viên INO sẽ giúp bạn tiết kiệm được thời gian và chi phí khi cần mua sắm. ​​Với sự tư vấn của chúng tôi, bạn sẽ không gặp khó khăn khi tìm hiểu về đặc tính của sản phẩm cần mua.
The Guardian 500VA Plus Hipot Analyzer is designed for hipot tests and analysis. The tests of AC/DC/IR can be programmed in AC 5kV/100mA – DC 6kV/20mA with 500VA output rating which complies with the EN50191 requirements. The 500VA Plus not only includes AC/DC/IR tests but also a new measurement technology – Corona Discharge Detection (CDD). Corona Discharge Detection and Discharge Level Analysis (DLA) are used to specify the:
Flashover Start Voltage (FSV)
BreakDown Voltage (BDV)
These functions provide useful data to verify the product's insulation and increase the reliability of the product during manufacturing.
For Contact Checking during the hipot test, the 500VA Plus is equipped with a High Frequency Contact Check (HFCC) besides the Open Short Check (OSC) function. By conducting the Contact Check during Hipot test, it can increase the test reliability and efficiency significantly.
For convenience, the 500VA Plus has a large LCD screen for operation. In addition, the GFI human protection circuit and Floating safety output prevents electrical hazard to the operator.
Features / Functions
500VA output rating
Hipot: AC 5kV/100mA – DC 6kV/20mA
Insulation: 5kVmax – 1MΩ~50G

Ω

Floating output complies with EN50191
Corona Disharge Detection
Discharge Level Analysis (DLA)
High Frequency Contact Check (HFCC)
Standard RS-232 Interface
Optional GPIB & HANDLER Interface
Key Lock when Fail
Programmable Voltage and Test Limit
CE Mark
Supports A190301 8HV Scanning Box
Applications
For Transformers: The internal winding of a transformer often endures unstable voltage for long periods when used under normal
conditions. Over time, the insulation is affected if the primary side components are in a state of corona discharge. For example, most power transformers reserve an auxiliary coil for other circuits to use in the primary side as the figure shows. When it is used under Vp=750V for a period of time and if the manufacturing process included faulty insulating tape or tubing it would cause a continuous corona discharge. Insulation of primary winding would be compromised and burned out eventually due to the enameled carbonization.
For Motors: As industrial motors or EV motors are used for long hours and under varying environmental
conditions suchas temperature and humidity, features like high durability andreliability are mostcritical.Temperature is also one of the key factors to influence insulation. If corona discharge occurs in turn-to-turn and turn-to-ground, it would cause the insulation to deteriorate due to the increase in heat andmaterial qualitative change. Adding Corona Discharge Detection in hipot testing exceeds the quality requirements for insulation by detecting units with poor insulation early thus reducing the defect rate caused by long-term usage. The image shows Corona Dischard in a motor.
Discharge Level Analysis for high voltage capacitors, safety capacitors, photocouplers and insulation materials:
When gaps or voids in the insulation medium happen in the manufacturing process, different electric fields will be formed and corona discharge will occur when the hipot test is conducted. The medium changes when such usage continue over time and quality issues will appear due to the faulty insulation.
Discharge Level Analysis
The dielectric withstanding voltage of components depends on materials and the manufacturing processes. For improving insulation in components, discharge levels should be defined including Corona discharge, Flashover and Breakdown. The Guardian 500VA Plus is equipped with a Discharge Level Analysis mode (DLA) for defining the programming voltage, time, counts and limits.
It provides discharge analysis of three levels. DLA mode will indicate the withstanding voltage depending on the different level limit beginning with Corona Discharge Start Voltage (CSV), Flashover Start Voltage (FSV), and Breakdown Voltage( BDV). R&D and QC personnel are able to improve insulation by discharge data collection and analysis.
Ordering information
Guardian 500VA Plus:AC/DC/IR/Ground Bond

A190355: 19" Rack Mount Kit
A190356: GPIB Interface
A190708: ARC Verification Fixture
Specifications
Guardian 500VA Plus
Mode
AC / DC / IR
Withstanding Voltage Test
Output Voltage
AC : 0.05 ~ 5kV, DC:0.05 ~ 6kV
Load Regulation
1% of setting + 0.5% full range
Voltage Resolution
2V
Voltage Accuracy
1% of setting + 0.5% full range
Cutoff Current
AC : 100mA; DC : 20mA
Current Resolution
AC : 1 μA; DC :0.1 μA
Current Accuracy
1% of setting + 0.5% full range
Output Frequency
50Hz / 60Hz
Test Time
0.3 ~ 999 sec, continue
Ramp Time
0.1 ~ 999 sec, Off
Fall Time
0.1 ~ 999 sec, Off
Waveform
Sine wave
Insulation Resistance Test
Output Voltage
DC : 0.05 ~ 5kV
Voltage Resolution
2V
Voltage Accuracy
1% of setting + 0.5% full range
IR Range
1MΩ ~ 50GΩ
Resistance Resolution
0.1MΩ
Resistance Accuracy
>1kV
1MΩ ~ 1GΩ : ±3% of reading + 0.1% of range
≤500V
≥1kV
1GΩ ~ 10GΩ : ±7% of reading + 2% of range
<500V
10GΩ ~ 50GΩ : ±10% of reading + 1% of range
Flashover Detection
Setting Mode
Programmable setting
Detection Current
AC : 20mA, DC : 10mA
Contact Check Function
HFCC
High Frequency Contact Check
OSC (open/short check)
600Hz, 0.1s
Contact Check Function
Floating Output Design
Leakage current <3mA
Fast Output Cut-off
0.4ms after NG Happens
Ground Fault Interrupt
0.5mA ±0.25mA AC,ON/OFF
Panel Operation Lock
Present Password
Interlock
YES
GO/NG Judgment Window
Indication,Alarm
GO: Short sound,Green LED; NG: Long sound, Red LED
Data Hold
Least tests data memories
Memory Storage
100 sets max., 50 steps per set
Interface
RS232 Handler Interface(standard) / GPIB (Optional)
General
Operation Environment
Temperature : 0°C ~ 45°C, Humidity : 15%~95% RH@≤40°C
Power Consumption
500VA
Power Requirements
90~132Vac or 198~264Vac, 47~66Hz
Weight
Approx. 20KG
Marks
CE
Resource & Download
Lưu ý: Nếu một thiết bị nào đó không được liệt kê ở đây, điều đó không có nghĩa rằng chúng tôi không hỗ trợ được bạn về thiết bị đó.
Hãy liên hệ với chúng tôi
 để biết danh sách đầy đủ về thiết bị mà chúng tôi có thể hỗ trợ và cung cấp.
INO: Bán, Báo giá, tư vấn mua sắm và cung cấp, tư vấn sản phẩm thay thế; tương đương, hướng dẫn sử dụng, giá…VNĐ, …USD info@ino.com.vn | INO Sales: 028 73000184 | QuadTech Inc-Plus Hipot Analyzer (Model: Guardian 500VA).