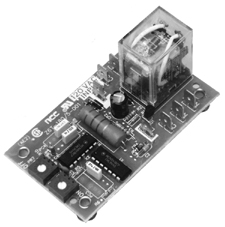 Lưu ý: Tham khảo ý kiến của nhân viên INO sẽ giúp bạn tiết kiệm được thời gian và chi phí khi cần mua sắm. ​​Với sự tư vấn của chúng tôi, bạn sẽ không gặp khó khăn khi tìm hiểu về đặc tính của sản phẩm cần mua.
Overview
Operating Logic: Upon application of voltage to the input terminals, the OFF delay is initiated. At the end of the OFF preset time, the relay coil is activated and the ON delay starts. At the end of the ON preset time, the relay coil is deactivated and a new cycle begins. The ON and OFF cycles will continue to alternate until voltage is removed.
100% functionally tested
Digital timing circuit
Time delays to 10 seconds
±1% repeatability
Individually adjustable ON and OFF times
Components protected by conformal coating
Low cost, open board construction
Superior transient protection
Fiberglass reinforced circuit board
Trimpot on-board with sealed cermet element
Resource & Download
Lưu ý: Nếu một thiết bị nào đó không được liệt kê ở đây, điều đó không có nghĩa rằng chúng tôi không hỗ trợ được bạn về thiết bị đó.
Hãy liên hệ với chúng tôi
 để biết danh sách đầy đủ về thiết bị mà chúng tôi có thể hỗ trợ và cung cấp.
INO: Bán, Báo giá, tư vấn mua sắm và cung cấp, tư vấn sản phẩm thay thế; tương đương, hướng dẫn sử dụng, giá…VNĐ, …USD info@ino.com.vn | INO Sales: 028 73000184 | National Controls Corporation-Time Delay Relays (Model:Z6 Series).