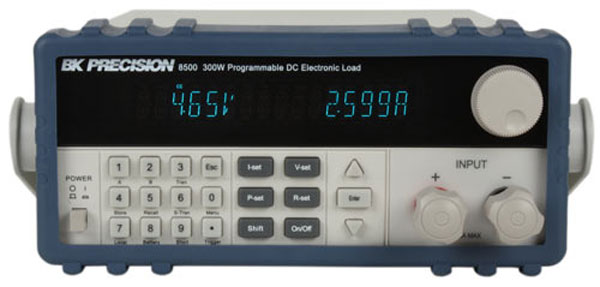 Lưu ý: Tham khảo ý kiến của nhân viên INO sẽ giúp bạn tiết kiệm được thời gian và chi phí khi cần mua sắm. ​​Với sự tư vấn của chúng tôi, bạn sẽ không gặp khó khăn khi tìm hiểu về đặc tính của sản phẩm cần mua.
The affordable, laboratory grade model 8500 Programmable DC Electronic Load is well suited for testing and evaluating a wide variety of DC power sources. This DC electronic load can operate in CC, CV, CR or CP mode while voltage/current or resistance/power values are measured and displayed in real time and is fully programmable via RS232 or USB interface. Extensive protection, including over temperature, over power, over voltage, over current and reverse polarity will help protect your valuable prototype. Its flexible operating modes and excellent measurement accuracy make this DC electronic load a great choice for characterizing DC Power supplies, DC-DC Converters, batteries, fuel cells and solar cells.
Operates between 0-120 VDC, 1 mA-30 A, 300 W max
Constant current (CC), resistance (CR), voltage (CV) and power (CP) operation
Built-in high resolution (0.1 mA/1 mV) voltage and current measurement (range dependant)
Bright, easy to read display (VFD technology)
Built-in transient generator
Programmable via RS232 or USB interface. RS232 to TTL serial converter cable, USB to TTL serial converter cable, and application software included
List mode operation for increased throughput
Battery testing mode to provide Ah rating of battery
Flexible triggering: Create trigger events by front panel keystroke, back panel TTL signal or software
Connect multiple units in parallel to increase current rating
Remote sense
Lưu ý: Nếu một thiết bị nào đó không được liệt kê ở đây, điều đó không có nghĩa rằng chúng tôi không hỗ trợ được bạn về thiết bị đó.
Hãy liên hệ với chúng tôi
 để biết danh sách đầy đủ về thiết bị mà chúng tôi có thể hỗ trợ và cung cấp.
INO: Bán, Báo giá, tư vấn mua sắm và cung cấp, tư vấn sản phẩm thay thế; tương đương, hướng dẫn sử dụng, giá…VNĐ, …USD info@ino.com.vn | INO Sales: 028 73000184 | Metrix Electronics- Electronic Loads (Model: BK8500).