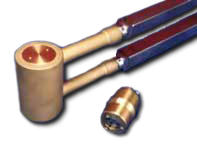 Lưu ý: Tham khảo ý kiến của nhân viên INO sẽ giúp bạn tiết kiệm được thời gian và chi phí khi cần mua sắm. ​​Với sự tư vấn của chúng tôi, bạn sẽ không gặp khó khăn khi tìm hiểu về đặc tính của sản phẩm cần mua.
Overview
Plate and float glass temperatures during the cooling and annealing processes must be kept extremely uniform or with carefully controlled gradients. The temperature uniformity of the glass across the width of the bath in the float process is also important. These difficult measurements can be undertaken, simply and rapidly, with the Land Precision Glass Thermometer/Probe.
Key Features
– Accurate.
– Rugged, fast response and reliable.
– Does not see through the glass – waveband specially selected to 4.8 to 5.2µm.
Specification
Temperatures
Low Temperature (C):
200
High Temperature (C):
1200
Low Temperature (F):
392
High Temperature (F):
2192
Type:
Land Precision Glass Thermometer Type JRG/A, mounted in a water cooled probe Type P/J.
Detector:
Thermopile
Optical components:
Infrared filter to give an effective waveband of 4.8 to 5.2µm. Zinc sulphide lens and fluorite window.
Lens aperture:
12.5mm/1/2in.
Sighting:
The thermometer is focused at 75mm/3in from the front of the lens and the nominal target size at this distance is 25 mm/1 in diameter.
Output:
Amplified voltage signal 6000mV at 1200 °C black body. Linear in radiance.
Range:
200 to 1200 °C/300 to 1100 °C
Response time:
1s to 98% of an instantaneous change after setting time of 15s on first being introduced to hot surroundings.
Ambient operating temperature:
0 to 70 °C/32 to 158 °F (inside a furnace)
Absolute accuracy:
0.75%K + 1 °C
Repeatability:
1 °C
Ancillary services:
Water – flow required depends on the length of probe and temperature of hot zone.
Air – a flow of filtered low pressure air equivalent to 1 Liter/min/2ft3/h.
Connections:
Electrical – self locating demountable connector.
Water – snap on connectors.
Air – snap on connectors.
Dimensions:
43mm/1.7in x 28mm/1.1in dia.
Weight (Probe and JRG/A):
Approx 4.5kg/10lb plus 1.8 kg/4lb per 300mm/1ft of operating length.
Resource & Download
Lưu ý: Nếu một thiết bị nào đó không được liệt kê ở đây, điều đó không có nghĩa rằng chúng tôi không hỗ trợ được bạn về thiết bị đó.
Hãy liên hệ với chúng tôi
 để biết danh sách đầy đủ về thiết bị mà chúng tôi có thể hỗ trợ và cung cấp.
INO: Bán, Báo giá, tư vấn mua sắm và cung cấp, tư vấn sản phẩm thay thế; tương đương, hướng dẫn sử dụng, giá…VNĐ, …USD info@ino.com.vn | INO Sales: 028 73000184 | Lan-Glass Thermometer ( Model: JRG/A ).