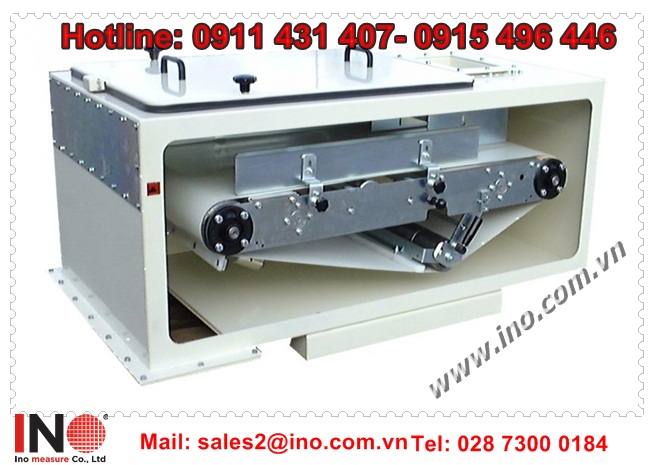 Lưu ý: Tham khảo ý kiến của nhân viên INO sẽ giúp bạn tiết kiệm được thời gian và chi phí khi cần mua sắm. ​​Với sự tư vấn của chúng tôi, bạn sẽ không gặp khó khăn khi tìm hiểu về đặc tính của sản phẩm cần mua.
JESBELT D WEIGHFEEDER
Compact weighfeeder for all types of loose products.
Weighing accuracy of 0.5% (OIML R50 class 0.5) The JesBelt D consists of a weigh feeder held between two profiles.
The belt is driven by high precision rollers and guided by a stainless steel support plate inlet and outlet.
To ensure its efficient cleaning, the strip is provided with an adjustable nylon scraper at the discharge roller.
It is directed by an adjustable side guide vertically. The weighing on the belt is provided by a load cell with a single support, which in combination with the high frequency pulse encoder (tachometer) signal provides an optimum precision in the indicator.
To ensure optimum accuracy, the belt is automatically maintained in tension through the gravimetric tensioner. The compact design enables integration in a very small footprint available. The automatic belt tension reduces the frequency of intervention for maintenance.
Resource & Download
Lưu ý: Nếu một thiết bị nào đó không được liệt kê ở đây, điều đó không có nghĩa rằng chúng tôi không hỗ trợ được bạn về thiết bị đó.
Hãy liên hệ với chúng tôi
 để biết danh sách đầy đủ về thiết bị mà chúng tôi có thể hỗ trợ và cung cấp.
INO: Bán, Báo giá, tư vấn mua sắm và cung cấp, tư vấn sản phẩm thay thế; tương đương, hướng dẫn sử dụng, giá…VNĐ, …USD info@ino.com.vn | INO Sales: 028 73000184 | JESBELT D WEIGHFEEDER- MASTER K VIỆT NAM.