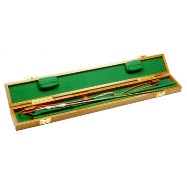 Lưu ý: Tham khảo ý kiến của nhân viên INO sẽ giúp bạn tiết kiệm được thời gian và chi phí khi cần mua sắm. ​​Với sự tư vấn của chúng tôi, bạn sẽ không gặp khó khăn khi tìm hiểu về đặc tính của sản phẩm cần mua.
Thermoresistances
The resistance element is of pure platinum, coiled and mounted in a strain-free construction. The former is of pure alumina material to avoid wire contamination.
Before final inspection and certification the sensor is pre-aged through temperature cycles to remove mechanical stress and therefore to improve long term stability.
Two models are available using respectively Inconel 600 (model 2180) and high purity allumina Ker710 (model 2182).
Thermocouple
The thermocouple is made of two homogenous wires, in type S thermocouple are one in Platinum and the other one in Platinum 10% Rhodium alloy. Both are of the highest purity presently available.
Base metal thermocouples can be supplied, on request, to be used in applications requiring a lower accuracy and where a direct comparison with a sensor of the same composition of the actually used.
Resource & Download
Lưu ý: Nếu một thiết bị nào đó không được liệt kê ở đây, điều đó không có nghĩa rằng chúng tôi không hỗ trợ được bạn về thiết bị đó.
Hãy liên hệ với chúng tôi
 để biết danh sách đầy đủ về thiết bị mà chúng tôi có thể hỗ trợ và cung cấp.
INO: Bán, Báo giá, tư vấn mua sắm và cung cấp, tư vấn sản phẩm thay thế; tương đương, hướng dẫn sử dụng, giá…VNĐ, …USD info@ino.com.vn | INO Sales: 028 73000184 | EUROTRON-For Thermocouples type S and K and for Thermoresistance type Pt100 (Model:Working Reference Standard).