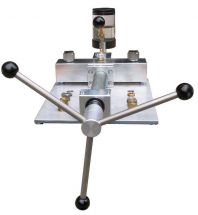 Lưu ý: Tham khảo ý kiến của nhân viên INO sẽ giúp bạn tiết kiệm được thời gian và chi phí khi cần mua sắm. ​​Với sự tư vấn của chúng tôi, bạn sẽ không gặp khó khăn khi tìm hiểu về đặc tính của sản phẩm cần mua.
The EiUK PCP-1200-EB-VP pressure comparison pump is used for generating pressure for the testing, adjusting and calibrating mechanical and electronic instruments by means of comparison. The pressure tests can be carried out in laboratories, work shop or on site.
The EiUK PCP-1200-EB-VP pressure comparator is equipped with a fine adjustable screw type press which enable the easy reach of the desired pressure test point up to 1200 bar and a innovative priming pump to easy the generation of pressure even in large volume.
The EiUK PCP-1200-EB-VP can be supplied with a master reference gauge such as LPC 300, LPC 200, P100 or G10 series to make a complete comparison system. Semi-automatic test routine can be created when using LPC 300 or LPC 200 with optional LPC-Cal software resp. P100 with the optional CalPman software which allows an on-line calibration procedure.
PCP-1200-EB-VP Benefits and Features
Pressure range up to 1200 bar
Hydraulic oil operated
Bench top execution
Innovative venting/bleeding system
Fine adjustment screw type press system
Priming pump for large volume filling
Easy to generate high pressure
Optional wide choice of reference instruments
PCP-1200-EB-VP Technical Specification
Technical Specification:
Pressure range:
0 to 1200 bar
Medium:
oil/water
Pressure ports:
2 x 1/2" BSP female rotating
Fluid reservoir:
400 cm³
Piston diameter:
8 mm
Ram screw stroke:
approximate 3.9 cm³
Material:
stainless steel, aluminum, brass, Viton and NBR
Distance between test points:
200 mm
Dimension:
L 600 x W 300 x H 240 mm
Weight:
9.9 kg
Lưu ý: Nếu một thiết bị nào đó không được liệt kê ở đây, điều đó không có nghĩa rằng chúng tôi không hỗ trợ được bạn về thiết bị đó.
Hãy liên hệ với chúng tôi
 để biết danh sách đầy đủ về thiết bị mà chúng tôi có thể hỗ trợ và cung cấp.
INO: Bán, Báo giá, tư vấn mua sắm và cung cấp, tư vấn sản phẩm thay thế; tương đương, hướng dẫn sử dụng, giá…VNĐ, …USD info@ino.com.vn | INO Sales: 028 73000184 | EiUK EUROTRON-Pressure Comparator (Model:EiUK PCP-1200-EB-VP) .