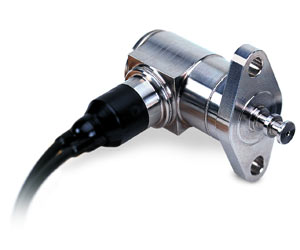 Lưu ý: Tham khảo ý kiến của nhân viên INO sẽ giúp bạn tiết kiệm được thời gian và chi phí khi cần mua sắm. ​​Với sự tư vấn của chúng tôi, bạn sẽ không gặp khó khăn khi tìm hiểu về đặc tính của sản phẩm cần mua.
The PTX 300 series of pressure transmitters has been developed for the offshore oil and gas industries as a compact, high performance device for reliable and long term subsea use. Maintenance free, it is available with operating ranges up to 22,500 psi and is fully submersible with an ambient pressure rating up to 5000 psi. Originally designed for aerospace hydraulic systems, the PTX 300 series utilizes micromachined piezo resistive silicon pressure measurement technology, continually developed and proven by Druck for 30 years.
The product is packaged to suit the specific requirements of subsea hydraulic control systems.In particular, the high pressure containment rating, hydraulic transient protection and integrity of cable/electrical connections combine with the precision measuring technology to make the PTX 300 series a leader in this field.
Features
Process Connection: Customized Flush flange, Spigot, and SAE threaded connections available in a wide range of material options to suit process and pressure rated requirements. product lead-time for short cycle projects
GE's propriety and extensively field proven piezo-resistive silicon technology for pressure measurement for full scale ranges from 70 bar/1000 psi to 1500 bar/21750 psi
Compact analogue electronics package, qualified to ISO 13628-6. +25 years design life.
Subsea qualified straight or 90º over-mould cable or penetrator connections providing single or dual harness configurations
ASME IX qualified electron beam welded housing in customized materials and hyperbaric use down to 3500 metres.
Applications
The Subsea Control Module (SCM) acts at the heart of the Subsea Production System (SPS), providing electronic and hydraulic control of subsea tree and manifold valves and instrumentation. The hydraulic functions of the SCM are driven by the Directional Control Valves (DCV) that control the flow of fluid through the SCM to apply or vent hydraulic power to system valve actuators within the SPS. The PTX 300 is employed to measure the pressure within the hydraulic circuit of the SCM, in particular its function is to verify the DCV's are operating correctly.
The PTX 300's proven reliability, performance, hyperbaric and seawater tolerant design in a compact package contribute to the
strong pedigree with over 30,000 units deployed for this application up until 2010.
The PTX 300 Series design and construction makes the sensor equally suitable for other subsea sensor applications including:-
Remote Operated Vehicle (ROV) Pressure Sensors
High hyperbaric design and subsea reliability makes the PTX 300 series suitable for ROV hydraulic monitoring applications.
Rigless Intervention Equipment
The PTX300's seawater tolerance, rugged construction, wide pressure range and flexible platform means the sensor can easily be
adapted where pressure measurement is required on subsea intervention equipment such as a Subsea Lubricator system.
Specifications
| | |
| --- | --- |
| Pressure Range: | Any zero based range from 70 bar to 1500 bar sealed gauge or absolute |
| Accuracy: | <+/- 0.1% FS (non-linearity, hysteresis and repeatability) |
| Drift: | <+/-0.1% FS/Year |
| Proof Pressure: | 1.5x full scale range up to 1875 bar |
| Hyperbaric Containment | up to 345 bar |
| Operating Temperature Range: | -30°C to +50°C |
| Storage Temperature: | -40°C to +80°C |
| Supply Voltage: | 10 to 32 Vdc |
| Output Signal: | 4-20mA (others available on request) |
| Output Response: | 0.5ms (2KHz) |
| Resolution: | Infinite |
| Media compatibility: | Process: Inconel 625/Inconel 718 (To NACE MR 0175) |
| External: | Options available (Stainless Steel 316L, Inconel 625) and Hypalon |
| Process Connection: | custom – face seal/spigot/threaded |
| Hyperbaric Containment: | up to 345 bar |
| Material Traceability: | BS EN10204:3.1 |
| Shock & Vibration: | in accordance with ISO 13628-6 Q2 |
| Sensor Mounting: | Any orientation |
Resource & Download
Lưu ý: Nếu một thiết bị nào đó không được liệt kê ở đây, điều đó không có nghĩa rằng chúng tôi không hỗ trợ được bạn về thiết bị đó.
Hãy liên hệ với chúng tôi
 để biết danh sách đầy đủ về thiết bị mà chúng tôi có thể hỗ trợ và cung cấp.
INO: Bán, Báo giá, tư vấn mua sắm và cung cấp, tư vấn sản phẩm thay thế; tương đương, hướng dẫn sử dụng, giá…VNĐ, …USD info@ino.com.vn | INO Sales: 028 73000184 | DRUCK-Subsea Pressure Transmitters (Model: PTX 300 Series).