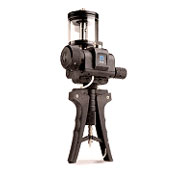 Lưu ý: Tham khảo ý kiến của nhân viên INO sẽ giúp bạn tiết kiệm được thời gian và chi phí khi cần mua sắm. ​​Với sự tư vấn của chúng tôi, bạn sẽ không gặp khó khăn khi tìm hiểu về đặc tính của sản phẩm cần mua.
The PV411A is a high quality field proven pressure and vacuum hand pump providing functionality never before seen in a hand held pressure source.
The PV411A replaces four conventional hand pumps and offers the following additional features that can be found in the datasheet.
Features
Multi-function "4 In 1" handpump
Pneumatic pressures to 600 psi (40 bar)
Hydraulic pressures to 10,000 psi (700 bar)
Generates vacuum to -28.5 inHg
Vacuum priming for hydraulic systems
Excellent low pressure control
Adjustable overpressure protection
Applications
Pressure/Vacuum selector valve also provides exceptional fine control pressure relief in both pneumatic and hydraulic modes
Tamper proof adjustable overpressure protection valve which can be set to relieve pressures from 300 to 10,000 psi
Removable hydraulic reservoir which can be disconnected from the pump without draining the fluid
Reservoir safety feature with spring loaded top cover vents if inadvertently pressurized above 8 psi
Hydraulic mode designed to operate with distilled water and/or high viscosity mineral oil
Highly sensitive volume adjuster is used for hydraulic, pneumatic, vacuum and low pressure operation
Built-in stroke adjuster controls the pressure/vacuum generated per stroke
240° swivel head for optimum viewing of reference indicators
Internal moving parts are PTFE anodized for reduced friction and wear
Ergonomic, rugged and lightweight design with comfortable hand grip
Specifications
General
Pressure ranges
Pneumatic: 0 to 600 psi
Hydraulic: 0 to 10,000 psi
Vacuum: 0 to 28.5 inHg
Hydraulic media
Designed for operation with distilled water (no alcohol), mineral oil equal to 40 wt.
For combined hydraulic and pneumatic operations it is recommended to use distilled water during hydraulic operation.
Materials
Stainless steel, anodized aluminum, Nitrile rubber, acrylic, PTFE, polyurethane, Delrin and nylon
Pressure connections
1/4 in NPT female
Reservoir connection
1/4 BSP female
Reservoir volume
100 cc
Optional large volume reservoir
200 cc
Total weight
2.5 lb
Dimensions (l x w x d)
10.2 in x 5.3 in x 3.7 in
PV411A-HA Hand pump kit includes:
Heavy duty transport case with closed foam insert 10,000 psi (689 bar) high pressure hose assembly, 3 ft length
2 pieces. 1/4 in NPT male adapters
1 piece 1/4 in NPT female adapter
1 piece 1/8 in NPT male adapter
1 piece 1/8 in NPT female adapter
1 piece 1/4 in Male to 1/8 in Female adapter
Resource & Download
Lưu ý: Nếu một thiết bị nào đó không được liệt kê ở đây, điều đó không có nghĩa rằng chúng tôi không hỗ trợ được bạn về thiết bị đó.
Hãy liên hệ với chúng tôi
 để biết danh sách đầy đủ về thiết bị mà chúng tôi có thể hỗ trợ và cung cấp.
INO: Bán, Báo giá, tư vấn mua sắm và cung cấp, tư vấn sản phẩm thay thế; tương đương, hướng dẫn sử dụng, giá…VNĐ, …USD info@ino.com.vn | INO Sales: 028 73000184 | DRUCK- Four-in-One Pressure and Vacuum Hand Pump (Model: PV411A).