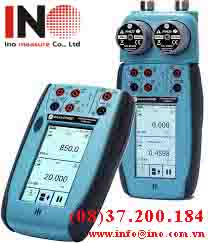 Lưu ý: Tham khảo ý kiến của nhân viên INO sẽ giúp bạn tiết kiệm được thời gian và chi phí khi cần mua sắm. ​​Với sự tư vấn của chúng tôi, bạn sẽ không gặp khó khăn khi tìm hiểu về đặc tính của sản phẩm cần mua.
Now ATEX Certified!
The DPI 620 Series an ultra-compact electrical, temperature and frequency calibrator and HART communicator, which provides simultaneous measurement and source capabilities with a fully featured HART digital interface. It integrates with pressure modules and pressure generation stations to form uniquely capable pressure test and calibration systems.
The Intrinsically Safe version of the DPI 620 Series is now available allowing configuration and multi-function calibration in hazardous areas. The ATEX and IECEx certification allows the instrument to be employed globally in Zone 0 areas. The certification also applies to the instrument's battery pack, permitting hot swapping within hazardous locations. The approval now further extends the range of potential applications of the powerful communicator/calibrator, especially in the oil and gas and process sectors. As with all instruments in the DPI 620 family, the IS version is rugged and compact and weather-proofed to IP65.
Flexible and Modular System

Its basic component is an ultra-compact, electrical, frequency and temperature calibrator and HART communicator, which provides simultaneous measurement and source capabilities with a fully featured HART digital interface.

Pressure measurement is provided by interchangeable pressure modules that can be attached to the calibrator by a pressure module carrier.

If pressure generation is required the calibrator and pressure module can be attached to one of three pressure generation stations, to form a fully-integrated pressure calibrator, of unparalleled performance.

The simple yet sophisticated design and concept combines, for the first time, an advanced electrical calibrator with state-of-the-art pressure measurement and generation, so that there is no longer any need to compromise one measurand capability in favour of another.

Compact and Powerful

The DPI 620 electrical calibrator can measure and source mA, mV, V, Ohms, frequency and a variety of RTDs and T/Cs. It provides an isolated 24 V loop power supply to energise devices and control loops and a stabilized dc voltage supply for ratio metric transducers.

The high resolution, color touch screen of the calibrator shows only those buttons necessary for the immediate, selected tasks. The buttons have been sized so that they can be operated by a gloved hand, with no need for a stylus. The display can be configured to show up to six reading windows and can show electrical and temperature inputs and outputs, two pressure module readings, an IDOS pressure measurement, and a USB-connected device, as well as a HART summary window or full HART communicator with active mA measurement and actual primary variable readings.

The reading windows also act as active keys and, when pressed, they expand to show more detailed information or to provide advance functions such as step and ramp outputs. color is used to emphasize important information, for example, red for critical or failed values and green for pass or within tolerance.

The DPI 620 includes comprehensive documenting features for automating instrument calibration when used in conjunction with Intecal Calibration Management software. The compact and lightweight calibrator is designed for rugged field application, with a robust casing and weather-proofing to IP 65. It features a high-speed digital interface for connecting to pressure modules and pressure generating stations. This interface will also allow expansion to meet future requirements when new modules and stations become available. It also features USB connectivity and a microSD card slot with 2GB of memory installed as standard. (The IS version has 1GB of fixed internal memory.)

High-performance HART Communicator

The DPI 620 multifunction calibrator now incorporates a fully featured HART® communicator which surpasses market leading communicators in functionality, ease of use and upgrade support such that a single hand held device can now configure the full range of HART devices and perform mA trims and sensor calibrations without the need for secondary equipment such as ammeters, calibrators, power supplies and loop resistors. This can significantly reduce equipment inventory, cost of ownership and greatly simplify maintenance activities The DPI 620 contains the latest application software and a complete library of registered HART device descriptions. Upgrades can be simply downloaded free of charge from our website.

Multifunction

The Windows CE-driven version of the electrical calibrator provides all the computing power of a conventional hand-held PC or PDA. It provides standard Windows file management and offers popular Windows features to allow users to create text documents and view common file types including Excel, Power Point, Word, pdf and images. This means that operators can consult user manuals, training presentations, data sheets, installation drawings etc while in the field or on the plant.

ATEX and IEC Approved

The four basic system components are available with ATEX and IEC approval for use in hazardous areas. This provides a flexible and expandable system that can be configured and operated safely in areas with potentially explosive atmospheres.

DPI 620 CE with WiFi*

The DPI 620 CE version can be further enhance with wireless IEEE 802.11g communications. For the first time, in a calibrator of this type, it is possible to link to the Internet and remote networks in order to access information and to transfer data. This powerful feature will benefit service technicians who spend extended periods away from head office and for those who need instant access to data, safety information, system drawings, product datasheets etc., while on the move. It will also provide an interface to future system modules when a physical connection is a hindrance.

*Not available with IS version.
Wide application coverage
Instrumentation installation, commissioning, maintenance and calibration
HART device configuration, trimming and calibration
Integrates with leading calibration software solutions
PDA for documenting routine maintenance and viewing Word, Excel, Power Point, PDF and images
System measurement and monitoring
Indicator, recorder and controller testing
Process loop set up and diagnostics
Switch, trip and safety system testing
Multi-channel data logging for system testing and diagnostics
Resource & Download
Lưu ý: Nếu một thiết bị nào đó không được liệt kê ở đây, điều đó không có nghĩa rằng chúng tôi không hỗ trợ được bạn về thiết bị đó.
Hãy liên hệ với chúng tôi
 để biết danh sách đầy đủ về thiết bị mà chúng tôi có thể hỗ trợ và cung cấp.
INO: Bán, Báo giá, tư vấn mua sắm và cung cấp, tư vấn sản phẩm thay thế; tương đương, hướng dẫn sử dụng, giá…VNĐ, …USD info@ino.com.vn | INO Sales: 028 73000184 | DRUCK-Advanced Modular Calibration and HART® Communication System (Model: DPI 620) .