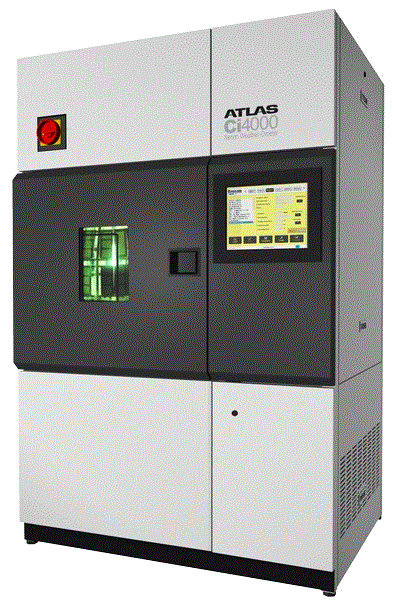 Lưu ý: Tham khảo ý kiến của nhân viên INO sẽ giúp bạn tiết kiệm được thời gian và chi phí khi cần mua sắm. ​​Với sự tư vấn của chúng tôi, bạn sẽ không gặp khó khăn khi tìm hiểu về đặc tính của sản phẩm cần mua.
The Ci4000 Weather-Ometer, with its advanced digital control system, represents monumental achievement in applying digital and optical technologies in an easy to use laboratory weathering instrument. The Ci4000 is approved by many OEMs in the automotive, paints and coatings, and plastics industries as the exclusive platform to deliver accurate, reproducible and repeatable results for predicting service life. The Ci4000 has been certified CE, UL, CSA, ISO and EN compliant.
Features
6500 W water cooled xenon arc lamp system
Total exposure area of 6,500 cm2 (1,008 in2)
3-tier inclined specimen rack
TFT full color 12" touch screen control panel display of all test parameters
Direct setting and control of irradiance: 340nm, 420nm, 300-400nm or Lux
Direct setting and control of Black Panel Temperature; uninsulated (BPT) or insulated (BST)
Direct setting and control of relative humidity
Direct setting and control of specimen chamber air temperature
Display of diagnostics messages
14 factory pre-programmed test methods
Space for 12 custom programs; sub-cycle capability
Multi-language capability (English, French, German, Spanish, Japanese, Chinese, Korean, Turkish)
Streaming data output via ethernet or USB port. USB thumb drive included
SmartDamperTM to reduce test variability in chamber temperature and humidity and compensates for changes in ambient lab conditions
SmartLight MonitorTM verifies that correct light capsule is installed
Specimen and rack spray
Filter combinations available to meet all common test methods
Air intake dust filter
CS-7 xenon lamp cooling system
Water purity indicator with alarm
Calibrated xenon reference lamp
Chamber viewing window in door
Universal electrical configurations to meet local frequency, voltage, and electrical requirements
Meets CE, UL, ISO EN and CSA safety requirements
Automatic test countdown based on time or radiant exposure
Specimen Holders available to accommodate many sample types
VibraSonicTM Humidification System
Options
Dual Black Panel Temperature (BPT) and Black Standard Temperature (BST) Measurement/Control including uninsulated BPT and BST sensors
Monitoring of second wavelength: 300-400 nm, 340 nm, 420 nm or Lux
Refrigeration coils installed in air duct (does not include required refrigeration unit)
S3T Specific Specimen Surface Temperature system
WXView (Weather View) Data Acquisition System
LiquiAirTM self contained xenon lamp cooling system (top or wall mount available)
Chamber air and DI water refrigeration
Resource & Download
Lưu ý: Nếu một thiết bị nào đó không được liệt kê ở đây, điều đó không có nghĩa rằng chúng tôi không hỗ trợ được bạn về thiết bị đó.
Hãy liên hệ với chúng tôi
 để biết danh sách đầy đủ về thiết bị mà chúng tôi có thể hỗ trợ và cung cấp.
INO: Bán, Báo giá, tư vấn mua sắm và cung cấp, tư vấn sản phẩm thay thế; tương đương, hướng dẫn sử dụng, giá…VNĐ, …USD info@ino.com.vn | INO Sales: 028 73000184 | Atlas Material Testing Technology LLC-Weather-Ometer ( Model:Ci4000) .