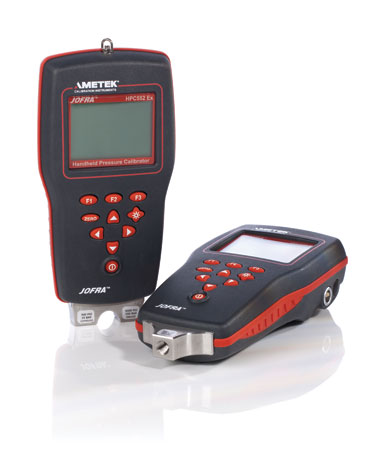 Lưu ý: Tham khảo ý kiến của nhân viên INO sẽ giúp bạn tiết kiệm được thời gian và chi phí khi cần mua sắm. ​​Với sự tư vấn của chúng tôi, bạn sẽ không gặp khó khăn khi tìm hiểu về đặc tính của sản phẩm cần mua.
HPC550/552Ex calibrators feature deadweight tester accuracy in a modern digital package.
The HPC550/552Ex can be used in a very broad range of applications from simple tool type jobs to complex calibration jobs in custody transfer systems. Including potential hazardous areas in Oil, Gas and Chemical industries.
The HPC550/552Ex series has been designed to meet high accuracy pressure calibration applications and faciliate your tasks. HPC550/552Ex offers features such as user configurable information display, 15 different pressure units, transmitter supply, mA input, % error calculation, voltage measurement, serial communication, and external pressure module capability. The accuracy of the HPC550/552Ex calibrators is specified in % of reading to ensure an even better accuracy and wider applicable pressure range. The HPC is temperature compensated from 0 to 45ºC/32 to 113ºF for on-site operation. It is a truly superior pressure calibrator for laboratory and field use, bringing laboratory accuracy into the field.
Wide pressure range
25 mbar to 700 bar FS (0.35 to 10,000 psi)
High acuracy
±0.025% of reading +0.01% F.S.
True field calibrator
Fully temperature compensated
Single or dual sensor versions
Chose between HPC550Ex single sensor calibrator, or HPC552Ex dual sensor calibrator. A HPC552Ex might be an alternative to two separate calibrators, saving investment and cost of ownership
Full set of intelligent features
Wide selection of useful functions and features. Damping, leak test, % error calculation, min/max, switch test, etc.
Thermometer
High accuracy thermometer, Pt100 sensor.
Intrinsically Safety – Apparatus – IECEx and EU Ex standards
HPC550/552Ex are intended for use in explosively hazardous areas and designed to prevent ignition by electrical, sparking or heating effects.
KEMA 10 ATEX 1068 X
Ex ia IIB T3 Gb (Ta=-10°C to +45°C)
IECEx CSA 10.0013
Resource & Download
Lưu ý: Nếu một thiết bị nào đó không được liệt kê ở đây, điều đó không có nghĩa rằng chúng tôi không hỗ trợ được bạn về thiết bị đó.
Hãy liên hệ với chúng tôi
 để biết danh sách đầy đủ về thiết bị mà chúng tôi có thể hỗ trợ và cung cấp.
INO: Bán, Báo giá, tư vấn mua sắm và cung cấp, tư vấn sản phẩm thay thế; tương đương, hướng dẫn sử dụng, giá…VNĐ, …USD info@ino.com.vn | INO Sales: 028 73000184 | Ametek Calibration Instruments-Handheld Pressure Calibrator ( Model:HPC550Ex Family ).