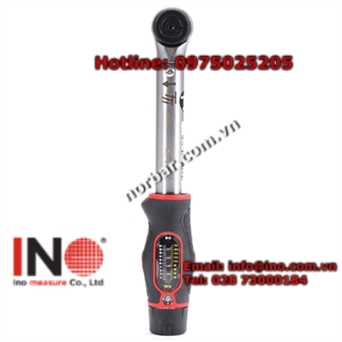 INO Measure Co., Ltd có khả năng tư vấn mua sắm, sử dụng, lắp đặt và cung cấp các thiết bị:Norbar  TTi Adjustable Ratchet  TTi20 1/4″, 4 – 20 N·m, 35 – 180 lbf·in. Nếu bạn có nhu cầu mua sắm hoặc cần sự hỗ trợ về kỹ thuật cho một thiết bị không được liệt kê ở đây, xin vui lòng liên hệ với chúng
tôi;
Lưu ý: Tham khảo ý kiến của nhân viên INO sẽ giúp bạn tiết kiệm được thời gian và chi phí khi cần mua sắm. ​​Với sự tư vấn của chúng tôi, bạn sẽ không gặp khó khăn khi tìm hiểu về đặc tính của sản phẩm cần mua.
The Norbar TTi Torque Wrenches are accurate, easy to set and are comfortable in use.  They are finished in an attractive and durable satin chrome plate. This TTi20 model is supplied with a 3/8″ reversible ratchet.
Part number
: 13831
EAN Bar Code
: 5060207563482
NATO number
: 5120-99-313-7261
Accuracy
: ±3%
Operates between
:
4,0 – 20,0 N·m (0,05 Increment)

35,0 – 180,0 lbf·in (0,50 Increment)

Length: 230 mm
Square Size: 3/8″
Weight: 0.4 Kg
Ratchet Diameter: 30 mm
Engagements per Revolution: 72
Accuracy: +/-3% of reading exceeds all international standards for torque wrenches. Each wrench is supplied with a traceable calibration certificate.
Micrometer Scale for simple and error free setting. (On dual scale wrenches, the micrometer increment applies to the N·m scale.)
Quick and Light Adjustment: adjustment over the entire scale can quickly be achieved and with minimal effort in approximately ten complete turns (exact number varies by model).
Comfortable, Durable Handle: the handle is constructed using two materials; a base material for strength overlaid with a soft feel grip for comfort and slip resistance.
The handle material and lens resist chemicals in common usage in the automotive, aviation and industrial environments.
► Các câu hỏi, thắc mắc, thông tin liên quan đến sản phẩm từ khâu mua sắm, lựa chọn, sử dụng, cài đặt hay thay thế, vui lòng liên hệ với INO team để được hỗ trợ và tư vấn kịp thời.
► Công ty Giải pháp và Công nghệ Đo lường INO, nhà cung cấp các thiết bị đo lường và tự động hóa công nghiệp
►
Web: www.ino.com.vn | Mail: info@ino.com.vn
►
INO Sales: 0869421303 | INO Admin: 028 73000184 | Hotline: 0947200184
►
Website: http://www.ino.com.vn